Thandai is a milk based summer drink made with aromatic flavors of almonds, milk, sugar and spices. It is a flavorful Indian Drink, generally made on special Festivals, such as Holi. Thandai is a smooth and joyful drink that I make for celebrating our Holi Party at my house. I used very simple ingredients and just spiced up this refreshing drink with fresh herbs.
Traditionally, Thandai is associated for celebration of various Indian festivals like Mahashivratri and Holi. Holi, the festival of colors is near to come and on this particular day it is a hot sun on the top, so this chilled almond-flavored beverage and a cooling drink gives the stamina to enjoy even in a hot day.
Thandai is the spiced milk mixture not only has many healthy benefits but also has a cooling effect on the body. Just try out this drink and stay cool this summer. HAPPY HOLI 🙂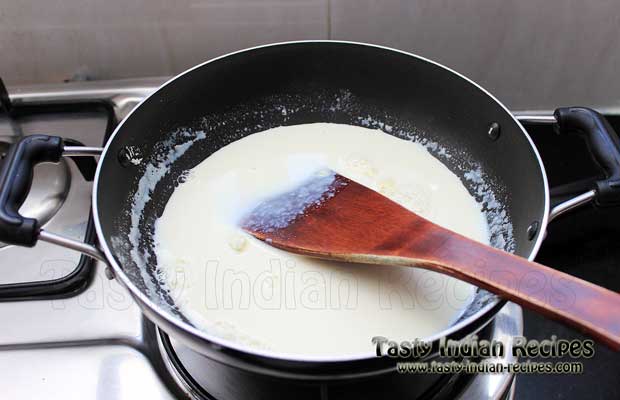 How to make Thandai Recipe:
Thandai Recipe is a Milk based Summer Drink made with aromatic flavors of Almonds, Milk, Sugar and Spices. It is a flavorful Indian Drink to celebrate Holi.
Ingredients
4 cups low fat milk
6 tablespoon sugar
1 tablespoon fennel seeds
1 tablespoon khus khus (poppy seeds)
1/2 teaspoon crushed cardamoms
2 tablespoon almonds (badam)
2 tablespoon cashew nuts (kaju)
1 teaspoon ground black pepper
2 cloves
1 inch cinnamon
Few saffron strands
Instructions
Soak the fennel seeds, poppy seeds, cashew nuts and badam in warm water for about 15 minutes. Meanwhile, boil the milk on a medium flame and allow it to cool down completely.
Take out the skin from badam, drain the water and then mix all the soaked ingredients in the grinder. Grind into a smooth paste and stir it in cooled milk.
Also add crushed cardamoms, cloves, cinnamon and pepper powder. Again keep the milk on medium heat for little boiling just for a few seconds, till the flavors blends into it.
Use the sieve or strainer for filtering this milk mixture and squeeze out the masalas which are stuck into strainer.
The essence and flavors of the masala will now be infused in the milk. Thandai is ready to serve.
Refrigerate it for few hours to serve chilled.
Garnish with some saffron strands just before serving.
Notes
Thandai should be served chilled. You can garnish it with some Rose Petals.
Tasty Indian Recipes
Chef Tips:
You may add more sugar as per your sweet buds.
Cardamom powder can be used instead of crushed cardamom.

Thandai
Further Reading:
Check out our more Holi Recipes.