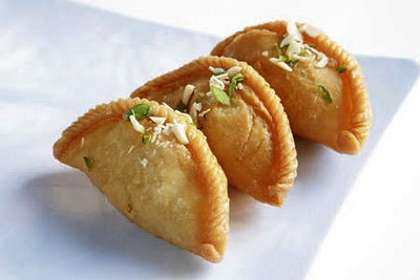 Gujiya is the famous Indian Sweet Dish, made with all-purpose flour, ghee, khoya and cardamoms. Holi is the main festival in India and Gujiya is highly made on this great Indian festival day.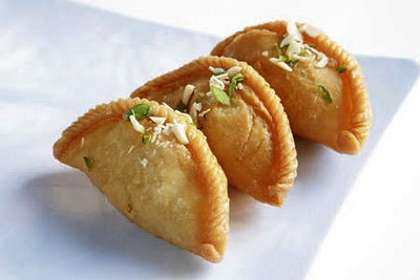 Preparation time: 15 minutes
Cooking time: 35-40 minutes
Servings: 10-15
Ingredients:
4 cups all-purpose flour (maida)
4 tbsp melted ghee
Ghee / Oil to fry
For the stuffing you will require:
2-1/2 cups khoya
1 cup dried coconut (shredded)
1 tsp green cardamom powder
4 tbsp almonds chopped
4 tbsp cashew nuts chopped
4 tbsp raisins (kishmish)
1-1/4 cups powdered sugar
How to make Gujiya:
Sieve the flour in a big bowl and mix 4-6 tbsp of oil in the flour.
Use fingers to mix well so that the mixture takes the form of breadcrumbs and binds to a certain extent.
You may add some more oil to get the desired consistency.
Add some water and knead lightly.
Gradually add little amount of water for making a soft and stiff dough.
Cover the dough with a damp muslin cloth and keep aside.
In a bowl, mash the khoya very well.
Heat a saucepan and add little oil.
Pour the mashed khoya and stir continue until light brown in color.
Add the powdered sugar and cardamom powder into the khoya and mix well.
Add almonds, cashews, coconut and raisins.
Fry for 2 minutes and remove from the heat.
Allow the mixture to cool completely.
Divide the prepared dough into small balls and roll out each ball into a small round of 3-4 inch diameter.
Fill half the round with the khoya mixture, fold and seal the round, twisting the edges inwards.
Make sure that the stuffing does not come out.
Prepare all the gujiyas in a same way and place them on a cloth or on a clean paper napkin.
Heat sufficient ghee in a deep-fryer.
Drop few gujiyas at a time in hot oil and fry on a medium flame till they turns golden brown in color.
Drain on oil absorbent paper.
Cool and then store in air tight jar.
Chef Tips :
For making proper gujiyas, Gujiya moulds are also available in the market, if you are not able to make them with your hands then use the gujiya moulds.
For using moulds, place the rolled dough ball in a greased gujiya mould and fill a tbsp of filling mixture on one side. Moisten the edges of the round and fold one side of the mould over the other. Remove the excess edges and reuse.