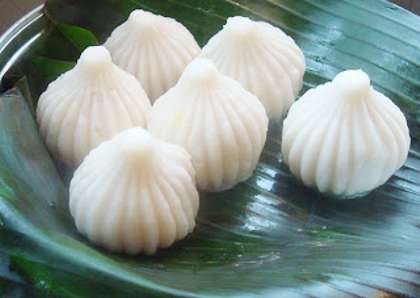 Vella Kozhukattai (Sweet Modak) are the dumpling with assorted fillings. Good amount of rice flour and a traditional sweet filling of jaggery-coconut is used. It is a must sweet dish during festival of Ganesh Chaturthi / Vinayaka Chaturthi.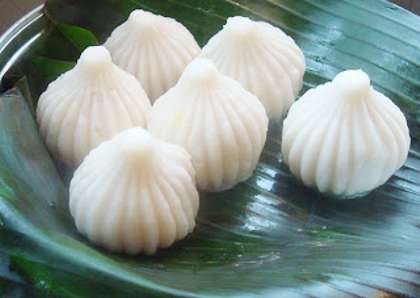 Prep time:
Cook time:
Total time: 
Yield: 10 servings
Ingredients :
For making the Cover of sweet modak you will require:
2 cups rice flour
1/2 tsp salt
2 tbsp ghee
2-1/2 cups water
For the Jaggery Coconut filling (Vella poornam) you will require:
2 cups fresh coconut, scrapped and grated
1 cup powdered Jaggery
1/2 tsp cardamom powder
How to make Vella Kozhukattai (Sweet Modak) :
For making the filling, mix the jaggery and coconut in the heating skillet.
Cook on low flame until jaggery starts melting and the mixture becomes thick.
Add cardamom powder and toss very well.
Make sure to make a thick mixture. If the mixture doesn't seems thick, then add little bit of rice flour and few drops of melted ghee.
Cook for few more seconds and then your mixture will turn thickened.
Let's starts preparing the cover, for that bring the water on few boils and add salt and ghee.
Remove 1/2 cup of water and keep aside.
Add the rice flour into boiling water and keep stirring.
If the mixture looks too dry and not sticky, then add the additional boiled water you set aside, till it comes together.
Let it sit for few minutes until it cools down and becomes enough to handle.
Grease your hands with Ghee and start kneading the dough.
Grease your palms well and break off a small piece from the dough.
Make sure, you should be able to rotate the dough into an extremely smooth ball.
Try to keep it in between dipping your fingers and greasing it with ghee and warm water for preparing the rest of the steps.
With the help of your thumb and other fingers , make a small crater in the ball you made, like an inverted cone.
Slowly rotate  and go around making this crater until it looks little bigger.
You are need to make sufficiently big enough to be able to drop in the rounds of filling you made earlier.
Drop the sweet filling you made into the depression.
Very slowly brings the ends together over the top of the filling.
Bring it together so that you can pinch the top and can sealing the filling.
Pinch to make a small horn.
You can always pinch off excess dough and shape the remaining to look like a beak.
Repeat with rest of the dough and steam them for 12-15 minutes.
It will be done, when the color slightly changes and the cover becomes little translucent.
Enjoy them warm.