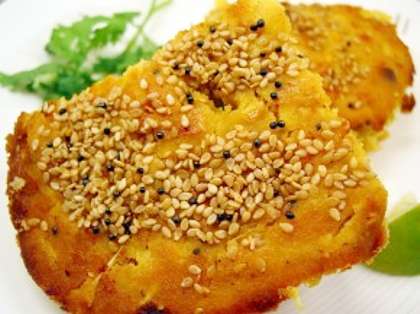 Handvo is the most famous Gujarati delicacy, traditional made with rice and combination of Indian lentils, and the best ingredient is grated white pumpkin, that brings a huge taste in this Festival Recipe. Make it in your own kitchen and enjoy on this Ganesh Chaturthi.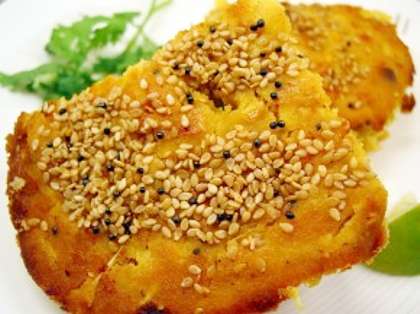 Prep time:
Cook time:
Total time:
Yield: 8 servings
Ingredients :
4 cups Rice (long grained)
1/2 cup Split Green Gram (Green Moong Dal)
1/2 cup Toovar Dal (Arhar)
1/2 cup Split Bengal Gram (Chana Dal)
1/2 cup Urad Dal
3 green chillies, finely chopped
1 tsp ginger paste
1 tsp garlic paste
1/2 tsp chilli powder
1/2 tsp turmeric powder
4 tbsp sugar
1 tsp lemon juice
2 cups grated pumpkin (lauki, bittergourd)
2 cups sour curd
1 tsp Soda-bi-carb
2 tbsp oil
For Tempering you will require:
2 tbsp cooking oil
A pinch of asofoetida
1 tsp carom seeds (ajwain)
1 tsp sesame seeds (white til)
How to make Handvo:
Wash the lentils and rice separately in 3-4 changing of water.
Soak them for about 2 hours.
Drain the water and keep aside.
Now combine all the lentils and rice into a grinder, make a fine paste by grinding well.
Pour sour curd in ground mixture and mix well.
Cover the mixture and keep for overnight for fermentation.
Heat 2 tbsp of oil in a pan and add ginger – garlic paste.
Saute for few seconds and add green chillies.
Mix the remaining ingredients and saute on medium high flame.
Grease a big round shaped baking dish with some oil and pour batter all over in it.
Heat a saucepan and add 2 tbsp of oil.
Put mustard seeds and let them crackle well.
Add remaining tempering ingredients and fry them for a few seconds.
pour the tempering over the prepared batter.
Preheat the oven at 350 degrees F and bake the dish for about 30 minutes.
When the crust seems brown, take it out from the oven.
Allow to cool for few minutes at a wire rack.
Cut into desired pieces and your handvo is ready to eat.