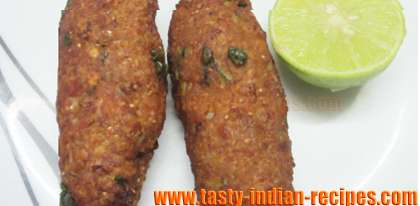 Paneer Rice Fingers is a quick and delicious snack dish, simply amazing to serve on special occasions and parties. Indian cottage cheese is smeared with the spicy batter of spices and the deep fried to turn crispy and crunchy.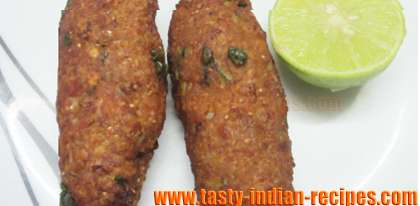 Prep time:
Cook time:
Total time:
Yield: 8 servings
Ingredients:
1/2 kg paneer (Indian cottage cheese), cut into small cubes/rectangles/strips
1-1/2 cups cooked rice
1/2 tsp Soda bicarb
1 cup besan (bengal gram flour)
2 tbsp ginger-garlic paste
1 tsp white sesame seeds (Til)
1-1/2 tsp poppy seeds (khus-khus)
1 tsp red chilli powder
1/2 tsp ground black pepper
1/2 tsp chilli paste
2 tsp buttermilk
1/2 tsp turmeric powder
1/2 tsp garam masala powder
Fresh coriander leaves, finely chopped
2 tbsp green spring onions, finely chopped
Salt to taste
Oil to deep fry
How to make Paneer Rice Fingers:
Take a big bowl and combine cooked rice, besan, buttermilk, salt and soda bicarb.
Gradually add water and make a smooth batter.
Make sure, the batter should be lumps free.
Keep this batter aside for 2 hours to set.
After keeping the batter for 2 hours, mix the remaining ingredients except paneer.
Heat good amount of oil in a frying pan.
Now smear or dip the strips of paneer one by one into prepared batter.
Coat from all the sides and drop into hot oil.
Fry one medium high flame, till the paneer strips turns crispy and crunchy.
Drain on oil absorbent paper and serve immediately with green chutney and tomato sauce.