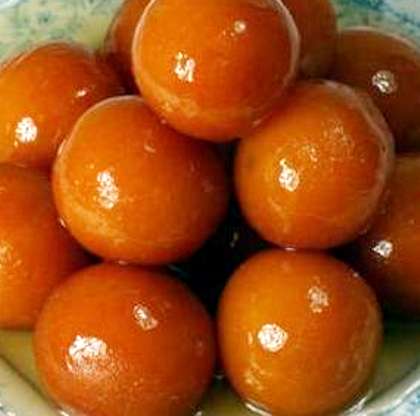 Malai Gulab Jamun is the Traditional Indian Sweet Dish. These Malai Gulab Jamun are different from normal Gulab Jamun, as they contains good amount of suji/rawa and a unique ingredient is Desicated Coconut.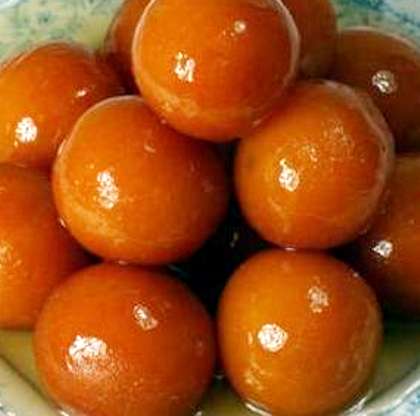 Prep time:
Cook time:
Total time:
Yield: 10 servings
Ingredients:
1 cup all-purpose flour (maida)
2 tbsp suji
1 tsp baking powder
1/2 cup full cream powder milk
2 cups milk
2 tbsp pure ghee
A pinch of salt
Oil for frying
For making Sugar Syrup you will require:
4 cups water
2 cups sugar
For the Filling of Malai Gulab Jamun you will require:
1 cup thick fresh cream ( malai ) (homemade or store bought)
1 cup desicated Coconut
Few almonds, sliced
How to make Malai Gulab Jamun :
Take a big bowl and mix the flour, suji, powder-milk, ghee, baking powder, milk and salt.
Mix very well and make a soft dough.
Cover the dough and keep aside at least for 2 hours.
Let's prepare sugar syrup, for that you just need to boil the water, add sugar and stir continue till it dissolves.
Cool and set aside.
Now from the prepared dough, try to make elongated-shaped Jamuns, gently by applying little oil in your palms.
Heat good amount of oil in a frying pan and deep fry the prepared gulab jamuns.
Drain the oil very well and then add into the prepared syrup.
Leave them as it is in syrup for about 2 hours.
Gently squeeze out the syrup and make a slit on any one end of the gulab jamun.
Fill in the cream and a slice of almond.
Roll in the desicated coconut and enjoy.