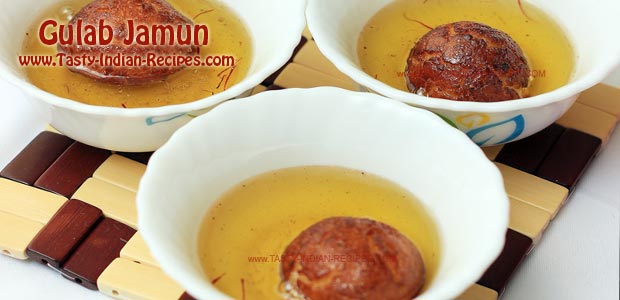 Gulab Jamun is ever green and everyone's favorite sweet dish. These delicious home-made gulab jamun are made from maida, sugar and milk. They are extremely tasty and perfect to serve in any occasion, festival, birthday parties or anniversaries.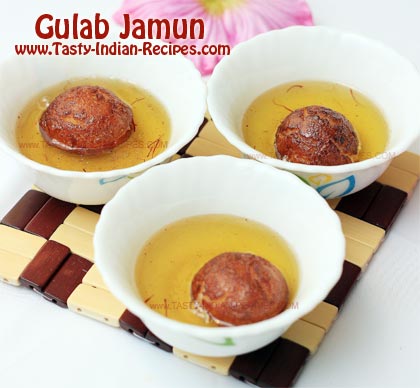 Preparation time: 10 minutes
Cooking time: 30 minutes
Servings: 8-10
Ingredients required for making Gulab Jamun Recipe :
2 cups refined flour (maida)
4 cups milk
A pinch of baking powder/soda
1 tbsp sugar
1 cup pure ghee (clarified butter)
For the final preparation you need:
2 cups water
2 cups sugar
1 tbsp cardamoms crushed
A pinch of saffron strands
1/2 tbsp rose essence
How to make Gulab Jamun Recipe:
Boil the milk on high heat until it reduces to its half quantity.
Remove from the fire and cool aside.
After sometime, when the milk seems cool then add flour, baking powder and sugar.
Mix all the ingredients very well and make a smooth dough.
Keep aside at least for an hour.
Boil 3 cups of water, add sugar and remaining ingredients. (as per ingredients of final preparation)
Keep this solution/mixture aside, as it will be used later at the final step.
Heat up ghee in a deep shaped pan.
Apply some oil/ghee on your hands and make small balls or rounds from the prepared mixture.
Drop few balls at a time into hot oil.
Simmer the flame and fry the jamuns evenly from all the sides until browned.
Put the jamuns in the prepared solution and set aside at least for 3-4 hours.
Chef Tips:
You can refrigerate these gulab jamuns for few hours until sets and then serve either warm or chilled.
These gulab jamun's are extremely delicious when little bit heated just before serving.
You may garnish them with chopped dry fruits.