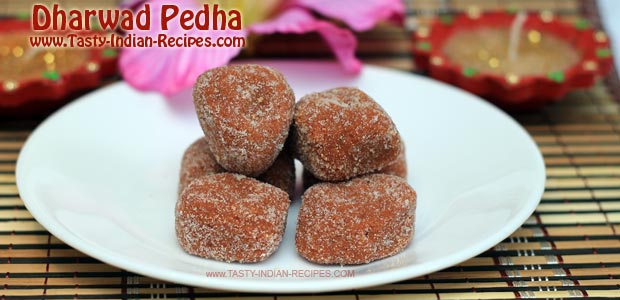 Dharwad Peda is a specialty of Dharwad region, situated at the border of Maharashtra and Karnataka. Dharwad Pedha are also famous by the name of "Kandi Pedha". These Special Pedas are generally made and offered in weddings. I rarely ever found these pedas in the sweet shops.
Dharwad Pedha are possibly my most favorite pedha and I have eaten them few times while growing up. I have been thinking to make this recipe since long time and lamenting on the fact that it is so rare to find these yummy pedas in shops. Then I thought, why not make it? Nothing is impossible, so I called up my Mom and as usual she knew the recipe and gave me detailed guidelines of making it at home.
Although It took little long time in making, but everything was well worth to do. Believe me, If you make it, I am sure you will agree with me that it was well worth the effort.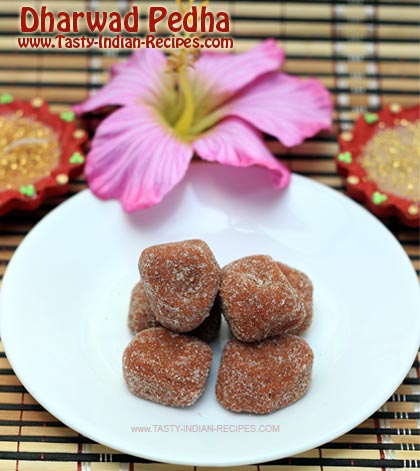 How to make Dharwad Pedha Recipe:
Dharwad Pedha Recipe is a specialty of Dharwad region and these Festival Pedha are made with Ricotta cheese, Milk, Sugar and Ghee.
Ingredients
3 cups ricotta cheese
1 cup granulated sugar
1 cup milk powder
1/2 cup roasted besan (bengal gram flour)
Few strands of saffron
1/2 cup milk
3/4 cup ghee / clarified butter
1/6 teaspoon cardamom powder
2 tbsp granulated sugar (for garnishing)
Few pistachios (chopped)
Few cashew nuts (chopped)
Instructions
Soak the saffron in warm milk and keep aside. Also keep the ingredients of making Pedha ready. Finely chop the ricotta cheese and pulse it either in a food processor or in a blender, until smooth.
Melt ghee in a pan and roast chopped cashew nuts till turns little golden. Keep aside.
Heat a non-stick pan and combine the milk, milk powder and ricotta cheese on a low flame by continuous stirring. Cook this for about 15 minutes, till the ricotta cheese slowly loses the watery consistency and takes on the mawa consistency. It is very important to keep a close eye on the cheese to make sure that it does not get stuck at the bottom of the pan or burn. Hence keep stirring it frequently. Add little ghee and soaked saffron and mix well.
Once the mixture is close to mawa consistency, you will notice that the smell and the taste of the cheese changes significantly. At this point, we are half way through the cooking process. Now mix half of the sugar and cardamom powder. Turn the gas off and allow the mixture to cool down for a while. Combine this pedha mixture and roasted besan in a food processor and process till the sugar mixes well into the roasted mawa. Move the processed mixture back to the same pan (in which we roasted the nuts) and stir for a few more minutes. Continue to reduce this mawa and keep roasting, till turns light brown. Mix remaining sugar and be very careful at this point and do not let it burn. You will notice that the mawa will become very granular and start separating out. Once you have a nice brown color, add roasted cashew nuts and pistachios.
Turn off the heat and allow the mixture to cool down for 5-6 minutes and then start making balls from the dough. The mixture should still be a little warm at this stage. Take some sugar in a bowl, flatten each ball into the peda shape, dip in sugar and make sure both sides are well coated.
Homemade Dharwad Pedha are ready to serve.
Notes
It is a key requirement for making this pedha, that mawa must be well browned. Cook this Recipe throughout on a low heat, else there are chances of burning.
Tasty Indian Recipes
Further Reading:
You may also like Kesar Peda and Milk Peda.