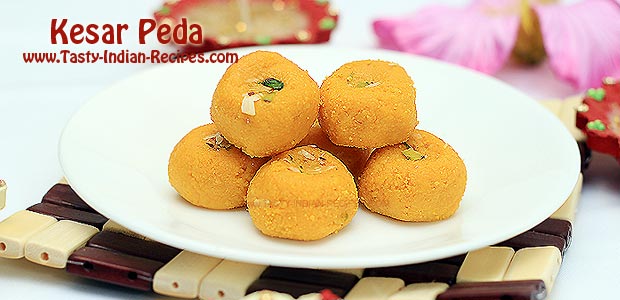 Kesar Peda is a milk-based famous Indian sweet dish. Milk brings a unique taste to the sweets and saffron (kesar) is an ultimate flavoring ingredient. There are variety of sweet dishes made from milk, such as milk peda, halwa, kheer, sevai, etc. Today I have made kesar peda by simmering the milk on a low flame, so that I can get a best fudge or mawa from it.
Milk Sweet Recipe is generally made in every Indian household to celebrate several big and holy festivals. Such as Diwali, Navratri, Holi, Raksha Bandhan, Ganesh Chaturthi and many more. Here is one more milk based easy and quick dessert named as 'Kesar Peda'. Let's have a quick look to my homemade saffron flavored milk fudge balls.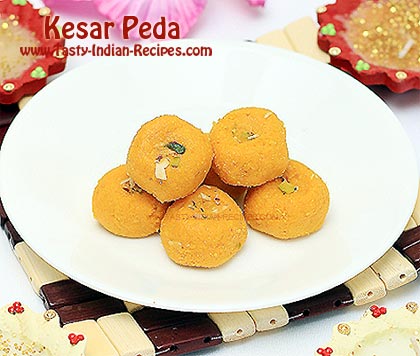 How to make Kesar Peda Recipe:
Kesar Peda Recipe is a milk-based famous Indian Sweet Dish, made from Milk, Ghee and Kesar. Let's see how to make Saffron flavored Milk Fudge Balls.
Ingredients
1 cup milk powder
1-1/2 cups condensed milk
1/2 cup sugar
1 teaspoon melted ghee (clarified butter)
1/10 teaspoon cardamom powder / crushed cardamoms
Few pistachios (chopped)
Few almonds (chopped) optional
1/8 teaspoon saffron strands
1/8 teaspoon kesari food color
Instructions
Keep the required ingredients ready for making kesar peda and put the saffron strands in 2 tbsp of warm milk. Set aside.
Now combine the milk and milk powder in a non-stick pan and stir continuously on a low flame till it thickens. The thickened milk should look like a mawa. Gradually add sugar and stir till it dissolves. It is best to keep stirring the milk to prevent it from sticking to the bottom of the pan.
Add saffron strands and cardamom powder to the thickened milk and mix well. Add 1 tsp of melted ghee, so that peda should become moist from inside.
Mix a pinch of kesari food color. (kesar brings a little color to the peda, but if you are adding a pinch of kesari food color, then peda looks more yummy and tempting). When the mawa becomes thick, add chopped dry nuts and switch it off. Knead the mawa and then let it cool.
Prepare small balls from the mixture, flatten and garnish with chopped pistachios.
Tasty and healthy homemade kesar peda are ready to serve.
Notes
You can mix chopped almonds in kesar peda for enhancing its flavor.
Tasty Indian Recipes
Chef Tip:
Kesar Peda must be consumed within 2-3 days.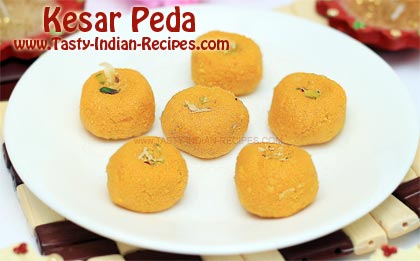 Further Reading: