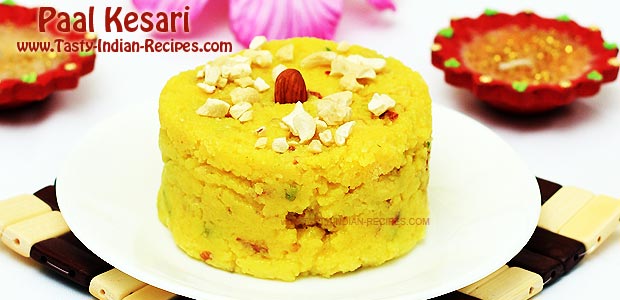 Paal Kesari Recipe or Rava milk Kesari Recipe is simply an exotic Indian sweet dish, made with rava, milk, sugar and ghee. You can easily make it for festivals and poojas at home. The ingredients which I have used for making this quick and tasty dessert are available in market.
Make sure to buy fresh rava and sieve it before using for making paal kesari recipe. It is also known as Semolina Milk Halwa Recipe.
Generally this sweet dish is made with rava and water, but I have replaced water with milk. It looks super perfect and yum tempting.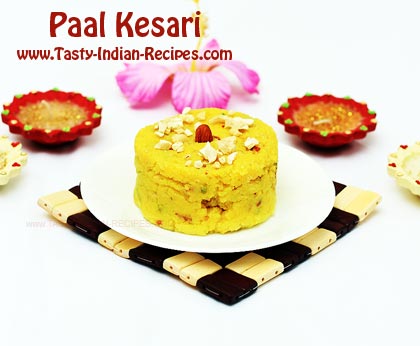 How to make Paal Kesari /Milk Rave Kesari Recipe:
Paal Kesari Recipe / Milk Rava Kesari Recipe
Paal Kesari or Rava milk Kesari is simply an Exotic Indian Sweet Dish made with Rava, Milk, Sugar and Ghee. It is generally made for celebration of various Indian Festivals and for performing Poojas at home.
Ingredients
1 cup rava (semolina/sujji)
1-1/2 cups milk
1-1/4 cups powdered sugar
4 tsp ghee
Few cashew nuts (chopped)
Few pistachios (chopped)
Few almonds, blanched
1/6 teaspoon cardamom powder
1/8 teaspoon yellow food color
1/8 teaspoon saffron threads
Instructions
Soak the saffron in 2 tbsp of warm milk and keep aside. Melt ghee in a non-stick pan. Add rava and roast it on a low flame, until you get a nice golden brown color of rava. Add milk and sugar and stir continue. Make sure, you need to cook this sweet dish on low flame.
Now add saffron mixture and mix very well. Let the rava gets cooked in the milk and stir it quickly without any lumps. Add a pinch of yellow food color and mix well to get the even color of the dish. Add chopped nuts and cardamom powder and mix well.
Rava milk kesari is ready for neivedhyam.
Notes
Serve Rava Kesari immediately else it becomes soggy.
Tasty Indian Recipes
Further Reading:
You may also like Rava Ladoo.