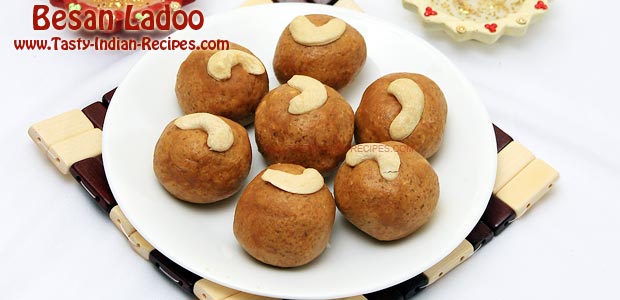 Besan Ladoo are my most favorite ladoos since childhood. I remember, my mom used to make these ladoos and myself and my sister use to help her in binding them. Although the mixture was very hot, but we had enjoyed that task a lot. My mom used to make them in bulk and we used to enjoy these ladoos daily for many days. Since then, I remember very well that how to make them easily and quickly at home.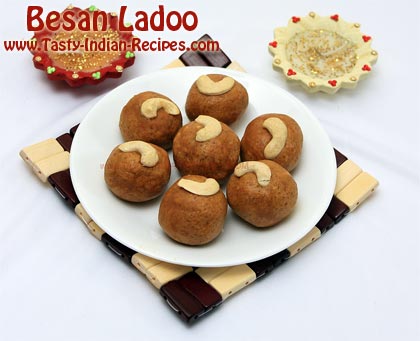 Besan ladoo are made with gram flour (besan), ghee, sugar and nuts. These homemade ladoo's are the special treat for this Diwali. This time my besan ladoo are different than the previously made ladoo's and they are extremely well and super perfect.
Prep time:
Cook time:
Total time:
Yield: 12 servings
Ingredients required for making Besan Ladoo:
1 cup besan (bengal gram flour)

1/2 cup ghee (clarified butter)
1/4 tsp cardamom powder
1-1/4 cups powdered sugar
4 tbsp cashew nuts (chopped)
How to make Besan Ladoo :
Melt 1/2 tsp ghee in a frying pan and roast the cashew nuts for a few seconds. Keep aside.

Melt remaining ghee in a same heating pan and add besan.
Stir continue on a low flame, till a nice aroma of besan comes out and it has changed its color.
Be careful not to get it burnt.

You can add little more ghee, if required.
Add powdered sugar and stir continue for few more seconds.
Switch off the flame and add roasted cashew nuts and cardamom powder.
Mix everything well with a spoon.

When the mixture is little warm, make medium sized balls with your hands.
You will observe that ladoo's are little moist in the beginning, but after keeping them for about an hour, they will come in a perfect shape.
Chef Tips:
If you feel difficult to bind the ladoo's, then melt 1 tbsp of ghee and pour in the mixture and then try to make ladoos.
It is very important to roast the besan nicely, else it leaves a raw flavor to the ladoos.
You can sprinkle few drops of milk to bind the mixture, but then the shelf life of ladoos will be less.
These ladoos are super yummy to serve on the next day.
Store them in an air tight container, and you can keep these ladoos for 15-20 days at room temperature.
Further Reading: