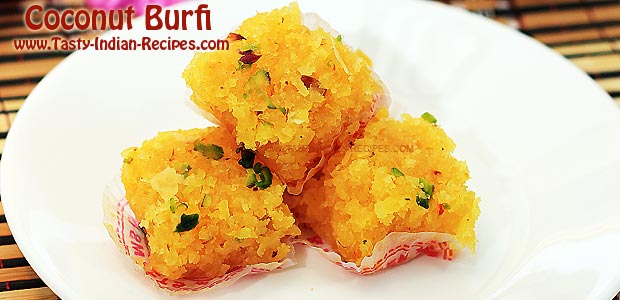 Coconut Burfi Recipe is a traditional Indian sweet dish made from desiccated coconut, milk and sugar. You do not need any expertise for making coconut barfi, because it is extremely easy in preparation.
Let me tell you the fact, I have just made it from the leftover fresh coconut kept in my fridge. Coconut Burfi is also known as Fresh Nariyal Barfi mor Thengai Burfi.
You can make this Coconut Burfi /thengai burfi very easily as and when you want, because the ingredients for making it are very common and usually kept in our kitchen.
Let's see how to make this delicious coconut fudge and easy coconut burfi recipe in just a few minutes.  Lets start cooking Fresh Nariyal Barfi Recipe / Cocnut Burfi Recipe / Thengai Brufi Recipe.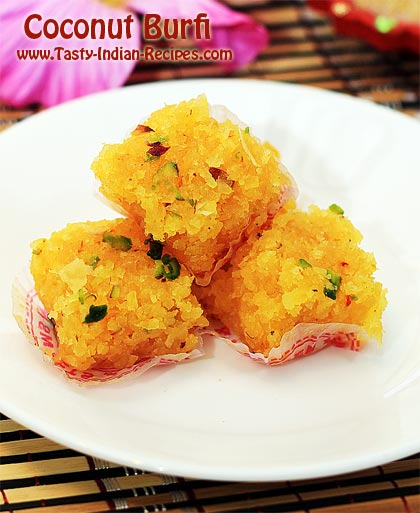 How to make Coconut Burfi Recipe:
Coconut Burfi Recipe is a traditional Indian sweet dish made from Dessicated Coconut, Milk and Sugar. Learn to make Coconut Burfi with Photographs.
Ingredients
1-1/2 cups fresh coconut (grated)
3/4 cup milk
1/2 cup sugar
1 tsp melted ghee
Few strands of saffron
1/8 tsp yellow food color
1/8 tsp cardamom powder (optional)
Instructions
Soak the saffron in 1 tbsp of warm milk and keep aside. In a heating non-stick pan, combine the coconut and milk very well. Add sugar and mix continue.
Keep the flame very low, so that coconut should not be raw form inside. Continue cooking for about 6-7 minutes and then add saffron mixture and cardamom powder. Add food color and stir constantly for few more minutes, till the mixture is little dried and begins to leave the sides of the pan.
Take any round shaped tray or vessel and grease it with little oil. Transfer the prepared coconut mixture into the vessel and spread evenly.
Cool and cut into desired pieces. Enjoy yummy coconut burfi at home.
Notes
If some coconut is leftover in your fridge, start making Coconut Chikki and Coconut Custard Halwa. You will love to enjoy these yummy Coconut Desserts with friends and family.
Tasty Indian Recipes