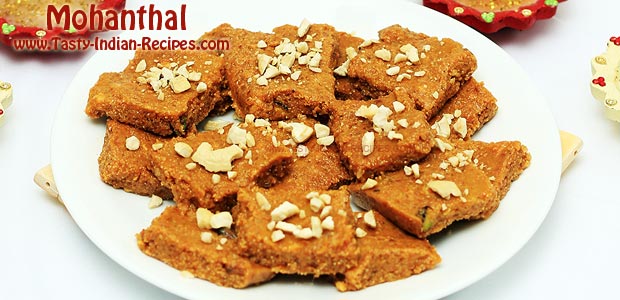 Mohanthal is a great treat to celebrate this Diwali. It is a popular Indian sweet dish, made from roasted gram flour (besan) and ghee. Mohanthal is just like a fudge with an authentic touch of cardamom and chopped dry fruits. It is also known as Gram Flour Fudge.
I remember, when I was a kid and my grandmom use to make mohanthal on every Diwali. I use to wonder that why the name of this sweet dish is Mohanthal , then she explained it to me, that Mohan means happiness and Thal means any big flat plate or Thali.
This sweet dish is in form of fudge and to be spread on a big Thali, so It is a happiness of fudge and a Welcome Dish of Diwali, hence the name is Mohanthal. Today I'm making this dish, missing my grandmom and dedicating this sweet dish to her. Lets start making Mohanthal / Gram Flour Fudge.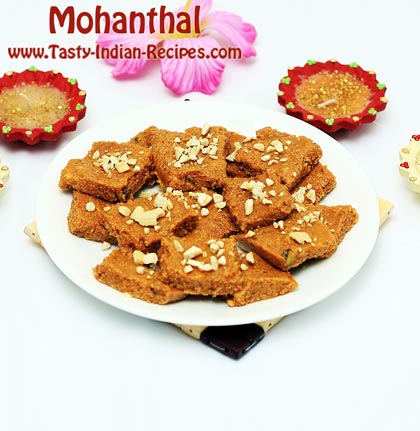 How to make Mohanthal Recipe :
Mohanthal Recipe is a sweet fudge made with roasted Gram Flour and Ghee. It is one of the most Famous Indian Sweet Dish generally made on Festivals of Diwali, Raksha Bandhan and Holi.
Ingredients
1 cup bengal gram flour (besan)
1 cup suji (semolina/rawa)
1/2 cup ghee (clarified butter)
3/4 cup powdered sugar
1/2 cup milk
1/8 teaspoon saffron strands
1/8 teaspoon cardamom powder
1/10 teaspoon nutmeg powder
Few almonds, blanched /chopped
Few pistachio, blanched/chopped
Few cashew nuts, blanched/chopped
Instructions
Melt ghee in a pan and mix besan and semolina in it. Stir continue on a low flame, so that raw flavor can be disappeared. After 5-6 minutes, add sugar, ghee, milk, saffron, nutmeg and cardamom powder. Saute on a medium heat by stirring continuously, till fragrant and dark in color.
Grease a big flat thali with some melted butter. Pour the mixture in it and spread evenly. When the mixture is still warm, cut into desired shape and pieces.

Sprinkle chopped dry fruits and press lightly. Set aside to cool completely. When it is completely cools down, separate the pieces and store in an air tight container.
Notes
Store the pieces of Mohanthal in an air tight container. You can keep this sweet dish for 15-20 days.
Tasty Indian Recipes
Further Reading:
You may also like Badam Puri and Sweet Kachori.