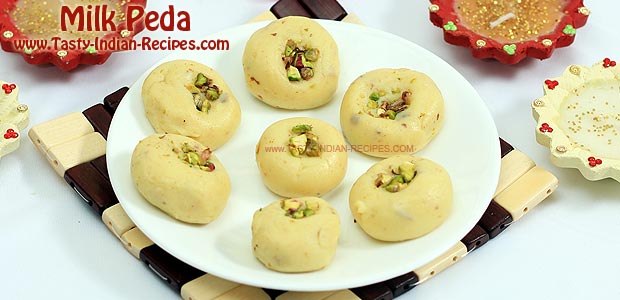 Milk Peda Recipe is one of the most delicious and tastiest milk product. Milk Peda's hold special value in Indian Culture because they are not only used in Pooja but also in Festivals and special occasions.  If your schedule is very tight, but still you want to make a sweet dish, then this milk dessert is a perfect for you and you can make it in just 10 minutes. I made Milk Peda's on my gas stove and I managed to made them in a traditional way. Milk Peda's are tremendously tasty and super yummy. Milk Peda is also known as Doodh Peda / Dhoodh Peda / Paal Peda.
Milk Peda Recipe will also help you in making Milk Peda Sweets for Festivals like Diwali, Pooja, Shivratri, Holi, Navratri etc.  Lets start making Milk Peda Recipe.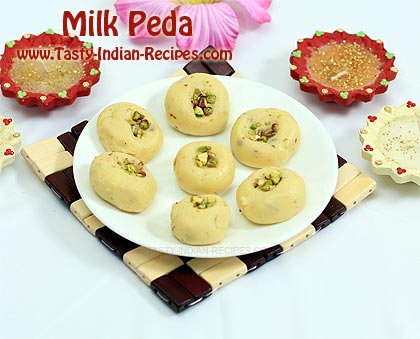 How to make Milk Peda Recipe:
Milk Peda Recipe / Doodh Peda Recipe / Paal Peda Recipe with step by step images. You can make them in just 10 minutes with Milk, Milk Powder and Sugar.
Ingredients
2 cups milk powder
4 cups sweetened condensed milk
3 tablespoon ghee
1/10 teaspoon saffron
1 tablespoon pistachio, chopped (optional)
Instructions
Soak the saffron in 2 tbsp of warm milk and keep aside.
Heat a non-stick pan and combine the milk and milk powder in it. Stir continue to make a smooth and lump free paste.
Add ghee and constantly mix it on a low flame. Now mix the saffron milk with a continuous stirring and without getting it burnt. After 6-8minutes, the mixture will become soft and sticky.
Switch off the flame and allow it to become warm. Take little butter or ghee in your hands and start making round shaped ladoos from the dough. Place some chopped pistachios in the middle of each peda and serve.
Notes
Milk Peda must be refrigerated if keeping for more than one day.
Tasty Indian Recipes
Chef Tips:
You can spread the dough and roll with the rolling pin, just like we do for making chapati, but slightly thicker,  and use a cookie cutter to get cute shaped Milk peda's.
Always store them in an air-tight container and use within 2 days (If kept open).
These yummy homemade Milk Peda can be refrigerated for 4-5 days.
Further Reading: