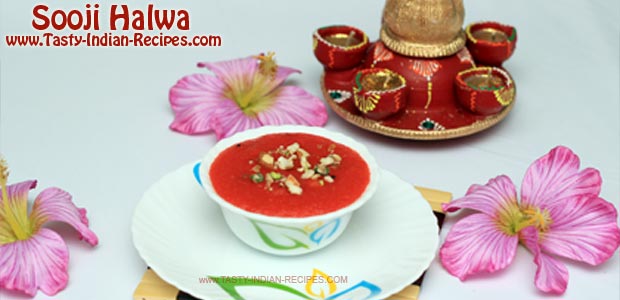 Sooji Halwa is the most popular Sweet Dish all over in India. Sooji, Suji and Rava are different names of Semolina. In South India, Sooji Halwa is generally called as Rava Kesari. It is extremely easy to make this dessert and kids really love to eat, as it is a yummy and mouth melting sweet dessert for them.
I generally make Sooji Halwa on various religious occasions, specially on Diwali. Suji Halwa is all time favorite for my family members. I give a twist of dry fruits to my halwa and it is just wonderful as usual. A beautiful aroma of sooji and a wonderful kesari color makes this dessert more tempting.
Although there is variety of Halwa Recipes in my blog such as Atta Halwa, Moong Dal Halwa, Coconut Custard Halwa, Boondi Halwa and many more, but this one is my most favorite halwa.
There is no hard and fast rule of putting dry fruits. You can add nuts and dry fruits of your choice. My whole family enjoy this recipe a lot, so with my heart filled with happiness today I am posting this recipe.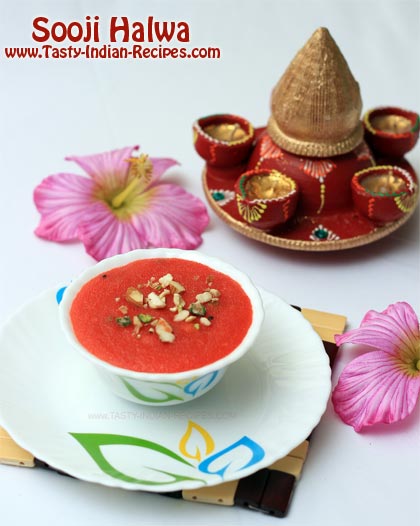 How to make Sooji Halwa Recipe:
Sooji Halwa Recipe is the most popular Sweet Dish all over in India. This Halwa is made with Sooji (Semolina), Sugar, Water and Ghee. Beautiful aroma of Sooji and a wonderful Kesari Color makes this Sweet Dish more tempting.
Ingredients
1-1/2 cup sooji (rava/suji/semolina)
3-1/2 cups water
4 tbsp ghee
1 cup sugar
2 green cardamoms (elaichi) crushed
Few cashew nuts, blanched
Few almonds, blanched
Few pistachio blanched
Few drops kesar food color
Instructions
Heat a non-stick pan and roast sooji on a very low flame for few minutes, till it turns little golden brown. Be careful so that sooji should not get burnt. Gradually add water and stir continuously till rava gets cooked.
You can check the correct stage of cooked rava by keeping wet hands over the mixture. If it doesn't stick to your hands it means it is cooked. Now slowly mix in sugar and stir continue to avoid the lumps. At this stage, you have to be very careful, because while mixing sugar in sooji, You will get lumps easily. So to avoid this, add sugar slowly with one hand and stir the mixture continuously with other hand.
The mixture will now become watery. You can get the consistency by stirring it for some time. Add the kesari food color along with ghee and stir till u get the desired consistency.
Add crushed cardamom and garnish with blanched dry fruits.
Notes
Instead of water you can add 2 cups of milk and 1/2 cup of water and keep Halwa a little thick.
Tasty Indian Recipes