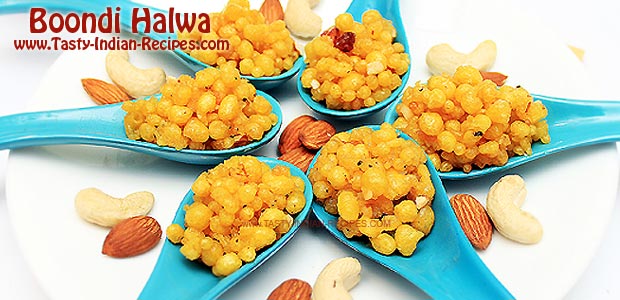 Boondi Halwa is a slightly twist and a variation of Boondi Ladoo, that is perfect for making during the festive occasion. Sweet Boondi Halwa is made with boondi, kesar, sugar and dry fruits. It's my own experiment in my kitchen and after several efforts of making perfect boondi ladoo, finally I got success in making perfect Boondi halwa as well.
Diwali or any Indian Festival is just incomplete without Sweets and Mithai, and we must try different sweets and snacks at home, specially on such a big and holy Indian Festivals. Try this Boondi Recipe at your home and believe me, this Boondi Mithai will be a delightful treat for Diwali puja. So let's together echoes the true spirit of the festivities.
I tried to make different sweet dishes for you during Diwali Festival and now New Year is going to come, so I thought why not to make this Rich Halwa recipe, as a wonderful offering to celebrate New year as well. So here is the recipe of Sweet Boondi Halwa.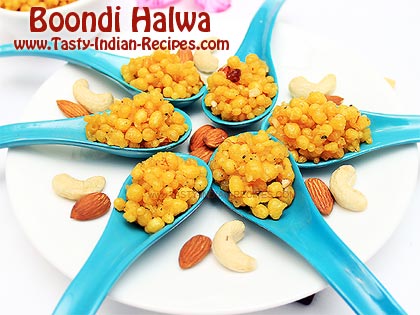 Prep time:
Cook time:
Total time:
Yield: 6 servings
Ingredients required for making Boondi Halwa Recipe:
For making Boondi you will require:
1-1/2 cups besan (bengal gram flour)
3/4 cup water
Oil for deep frying
For making sugar syrup you will require:
1 cup sugar
1/2 cup+4 tbsp water
A pinch of cardamom powder
Few saffron strands (optional)
Other Flavoring ingredients are:
Few chopped mixed nuts (almonds, cashew nuts, pistachios, melon seeds)
1 tbsp raisins
4 tbsp warm milk
1 tbsp ghee
How to make Boondi Halwa Recipe:
Soak the saffron in 4 tbsp of warm milk and keep aside. Sieve the flour and remove out any coarse bits. Add water in flour and mix very well for making a smooth and lump free batter. Adjust the water to ensure the batter of thick consistency. Keep the batter aside for few minutes and in the meantime start making sugar syrup.

Take a big vessel and mix all the ingredients for making sugar syrup. Stir them on a low heat, till the sugar is completely dissolved. Adjust the flame on low and high with continuous stirring, until the syrup is stringy and thick (two string consistency). Once ready, turn off the heat and keep aside.

Heat sufficient oil in a pan and when the oil seems hot enough, put a drop of batter to check whether the oil is properly heated or not. If boondi is instantly rising up, that means oil is ready for frying. Now you need two spatulas for making boondis. To begin, hold a perforated spoon over the pan and pour 2 tbsp of batter on it. Spread with spoon and let the boondi fall in hot oil. When the batter drops into the pan through the perforations, it forms small droplets which then get fried in the oil.

Stir the boondis continuously till the color is little changed, but make sure not to make it crispy. Once boondi is done, with the help of perforated spoon, take it out from the pan and then mix into the sugar syrup. Stir the boondis in the syrup thoroughly so that they are coated well. When the boondi cools down sufficiently, sprinkle the dry fruits, raisins, ghee and saffron milk on it and mix well.

Sweet and crunchy Boondi Halwa is now ready to serve.
Further Reading: