Homemade Cheese Pizza Recipe is all time hit Pizza Recipe.  Kids specially love pizza allot!  Its very easy to make pizza at home from ready made base but what you will do when no ready made pizza base is available?  This time, I am going to teach you how to make homemade cheese pizza from scratch.  You can also add your favorite toppings to make it taste even better!
Well, to make pizza you don't really have to prepare everything, you can buy many ready ingrdients available from your local market.  You can buy any brand of pizza sauce and if you like it spicy then some garlic chilli sauce or even schewzan sauce also taste good when combined with pizza sauce!   Surprised aren't you?   Yeah, try it and we will talk!
This time I have used all these ready made ingredients, as you can see in pics, that I have used Maggi Pizza Sauce, Fun Foods Garlic Chilli Spread and Go Shredded Cheese. These all ingredients are easily available in markets all over India and many parts of the world!  Yes, Indian companies now rule the world and there products are available all around the world and trust me no other brands can taste spices and taste of Indian brands.   Yes, reminds me of MDH Masala uncle sending all its spices around the world, yey!
Enough talking, lets start making pizza but first some pics to encourage you for making pizza.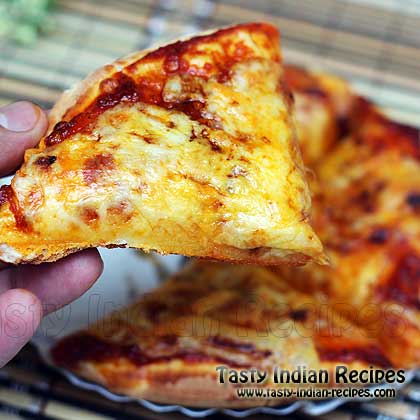 See the back side crust of my Homemade Cheese Pizza, it is really crunchy and properly browned 🙂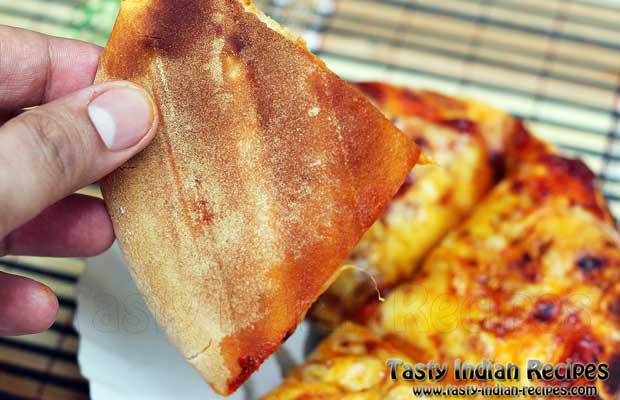 Here are the ingredients, I am using, you can use your favorite brand but make sure you are buying Mozzarella Cheese and not the regular cheese. If you will not use Mozzarella cheese then there will be huge difference in taste.  Also, make sure you shred the cheese and spread it properly all over the pizza otherwise cheese will not taste good. In India Amul, mother diary etc. sell Mozzarella cheese but I am using gowardhan brand.  Btw, Gowardhan cheese is awesome.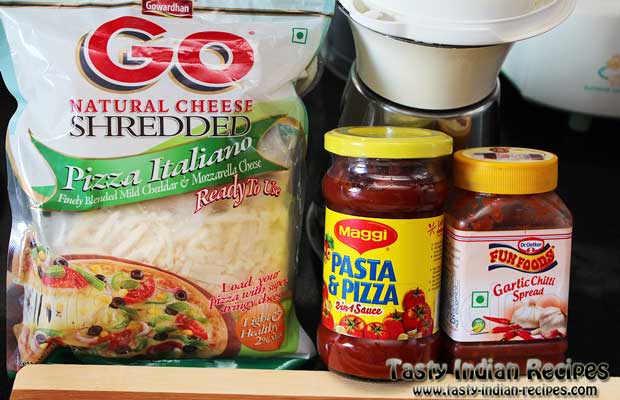 This is how a regular pizza base looks like. If you want to know how to make pizza base at home then follow the link.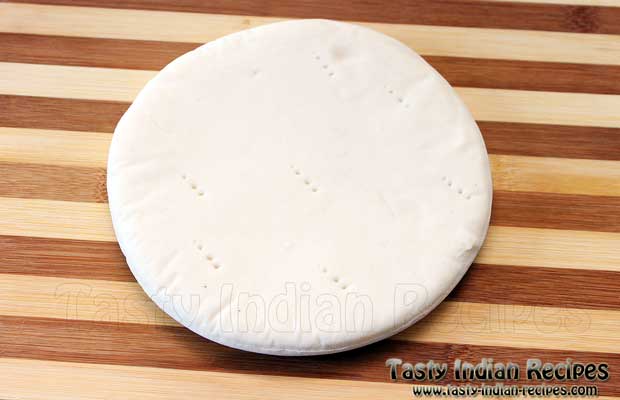 Finally, I have many other varieties of pizza in my blog, such as Paneer Cheese Pizza, Homemade Vegetable Pizza, Tandoori Paneer Pizza, etc. Do check them out, when you get time!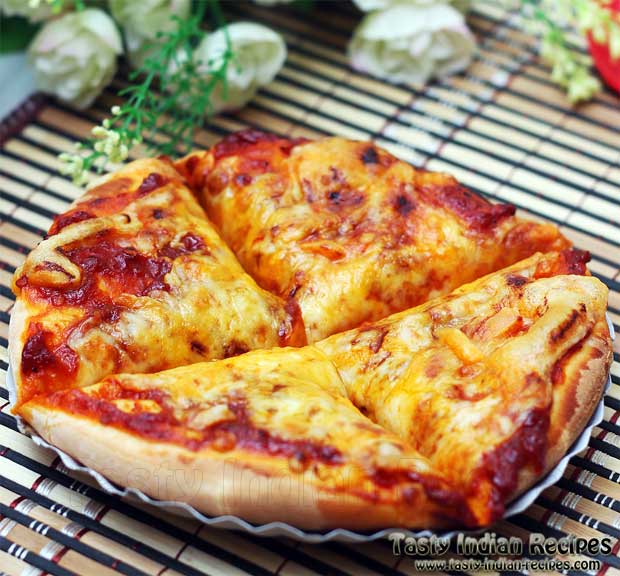 How to make Homemade Cheese Pizza Recipe:
Homemade Cheese Pizza Recipe
Homemade Cheese Pizza Recipe from scratch without ready made base. Step by step instructions with photographs to make you pizza expert. Your Kids will love it!
Ingredients
For making Pizza Base (Bread) you will require:

2 cups all-purpose flour/maida
2 teaspoon active dry yeast
1 tablespoon oil (prefer olive oil)
1/4 teaspoon sugar or honey
1/2 teaspoon salt
1 cup warm water

For Pizza Topping you will require:

2 cups any good quality Mozzarella Cheese
2 tablespoon Mexican style cheddar cheese (optional)
4 tablespoon Pizza Sauce (any good branded quality sauce)
2 teaspoon garlic chilli spread (optional)
Red chili flakes (for seasoning)
Mixed herbs (for seasoning)
Instructions
Dissolve 2 teaspoon of active dry yeast and 1/4 teaspoon sugar in 1 cup of warm water. Stir the whole mixture and keep it aside for about 10-15 minutes.Now you will see, that the yeast is getting doubled up and a good frothy layer has come up.
Take a big bowl and mix 2 cups all-purpose flour and 1/2 teaspoon salt in it. Add yeast mixture and about 1 tablespoon of oil. Mix the whole ingredients very well with the spatula.
Keep on mixing, till it becomes sticky. The dough will leave the sides of the bowl but still will be a bit sticky, so its time now to knead the dough with the hand. Knead the dough, until it is smooth and dust with flour to prevent sticking. The dough will be soft and elastic and now apply some oil to the dough all around.
Keep this pizza dough in a big bowl and cover loosely with a clean kitchen napkin and then put the lid over it. Keep it aside at least for 2 hours. After 2 hours the dough has beautifully risen and doubled up as you can see in picture.
Divide the dough into 4 equal sized balls or portions and again keep it aside for 20-30 minutes. After 30 minutes, you will see the balls are little firm and raisin bit. Now take one ball on a clean kitchen surface, flatten it into the disk and start rolling.
Dust with the flour and with the help of rolling pin, roll each ball into a large round or oval shape of about 1/4 inch thickness. Roll the dough from the center towards the outer edges. I made four pizza bases out of it, but if you want you can use the whole dough to make an extra large pizza or even make two large pizzas.
Now spread about 1/2 cup of mozzarella cheese and 1/2 tablespoon of Mexican style cheddar cheese all over on pizza base. I divided both cheeses in 4 equal parts for making 4 pizza's. If you want you can sprinkle some more cheese, as per your taste buds.
Pizza is ready now for keeping in preheated oven.
Preheat the oven at 350 degrees F for 5 minutes. Carefully place the pizza in the oven and bake it for about 15 minutes, till the base becomes golden brown and cheese on top is melted.
Notes
The cheese which I have used here is flavorful and seasoned, hence I didn't sprinkled salt over it. If you want, you can sprinkle a bit of salt all over on pizza, before placing in preheated oven. I prefer to serve my pizza on paper plate, in this way pizza does not get wet and sticky and remains fresh and tasty. You can use your favorite cheese for making this pizza at home. If you do not have oven, then cook it on hot tawa, covered with a lid, on low flame for 10-12 minutes, till cheese starts melting. Some people use grilling rack for making it. They place the grilling rack over gas flame, then place pizza on it, cover with any lid and leave to cook it on low flame for few minutes.
Tasty Indian Recipes
Chef Tips:
Fresh yeast can be easily purchased from local bakeries, in small quantities or buy instant yeast which will be available in any near by store for 20 to 40 rupees (about $1-$2).
You can even make this pizza dough either in a food processor or in an electric mixer too.  Trust me it will help allot and your hands will not pain 🙂
If the dough becomes sticky, then add some flour and vice versa. If the dough is not soft and a bit dry, then add some warm water and knead continue.