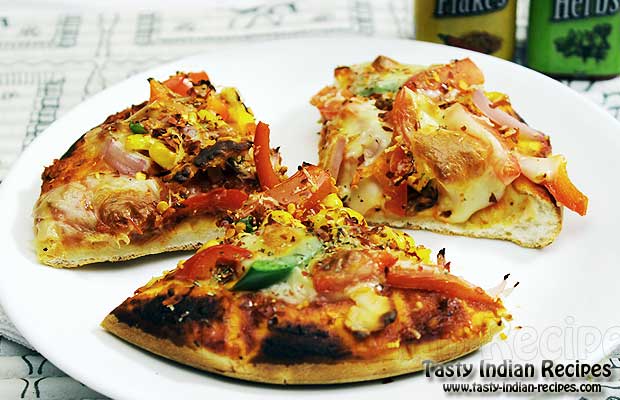 Tandoori Paneer Pizza consists the unique topping of Indian cottage cheese, few veggies and spicy herbs which can be arranged on your choice of base. It is a true fusion snack dish to fill the hungry stomach. Tandoori Paneer Pizza is an exciting way of preparation and presentation. It really melts your mouth at the time of cooking.
Preparation time: 5 minutes
Cooking time: 10 minutes
Baking time: 5-6 minutes
Servings: 2 pizza's
Ingredients:
100 gms paneer tiny cubes
1/2 tomato slices (remove pulp)
1/2 capsicum thin slices
1/2 onion thin slices
1 tbsp thick curd
1 tbsp fresh cream
2 tbsp pizza sauce
1 tsp red chilli sauce
2 cups shredded pizza Italiano cheese (store bought)
4 green chillies thinly chopped
1/2 inch ginger minced
4 cloves garlic chopped
1/4 tsp red chilli powder
1/4 tsp chaat masala
1/2 tsp tandoori masala
2 tbsp oil
Foil or wrap paper
Red chilli flakes to sprinkle
Oregano seasoning to sprinkle
Salt to taste
Few coals
2 Iron plates
How to make Tandoori Paneer Pizza:
Combine curd, cream, salt, green chillies, minced ginger, chopped garlic, red chilli powder, chaat masala, tandoori masala and 1 tbsp of oil.
Mix well and add paneer, onion, tomato and capsicum.
Cover this marination with a foil paper and keep aside for about 30 minutes.
Now heat up the pan, add 1 tbsp of oil, also pour this whole marination.
Stir for about 2-3 minutes on low heat.
In the meantime Heat the tawa on the gas, arrange few coals on heating tawa.
Leave coals to reals their smoke, it will take about 3-4 minutes.
Now transfer the topping of pizza i.e mixture of paneer from the pan to the iron plate.
Keep this iron plate on top of the coals for few minutes.
Keep watching to avoid the burning.
After few minutes you will feel the typical taste of tandoori paneer is coming out.
At this moment remove mixture from the iron plate and transfer into the bowl.
The topping for pizza base is ready.
Now for proceeding, place 2 pizza bases on flat surface.
Spread 1 tbsp of pizza sauce, 1/2 tsp of red chilli sauce and 1 cup of the shredded cheese on each pizza base.
Now divide the topping of tandoori paneer in 2 equal portions and spread on each pizza base.
Again sprinkle the remaining cheese.
Place on baking tray and then in oven.
Bake for about 4-5 minutes.
Take out from the oven, cut into 4-6 equal portions and sprinkle some red chilli flakes and oregano seasoning.
Serve on the spot.
Chef Tips: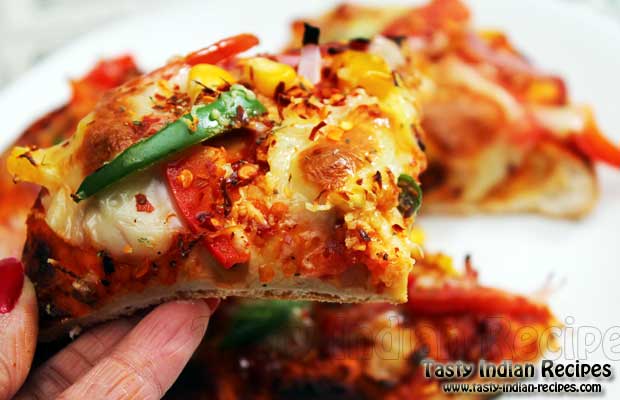 Now a days coals are not available everywhere. So here is a great tip to give your pizza a typical tandoori taste. Make the veggies in the pan and then heat on the tawa. After that use as the topping of pizza.
After baking the pizza first keep it on paper plate and then in normal serving plate. In this way the paper plate will absorb the whole water of your pizza and your serving plate will not get wet.
Here you may add dried red chillies soaked in vinegar or soaked jalapenos to fill your pizza with the veggies and flavors.
For making tandoori paneer pizza you may also use grated paneer.