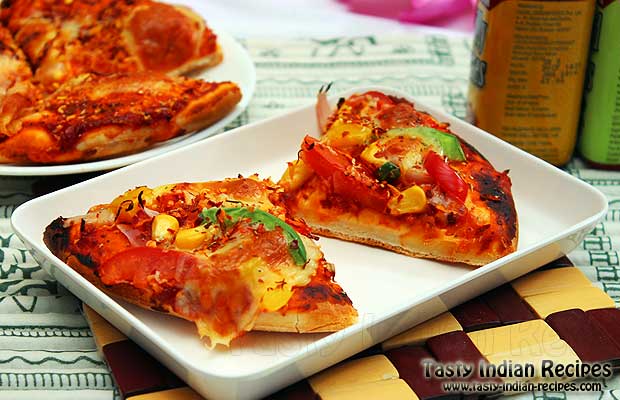 Vegetable Paneer Pizza is made with fresh vegetables and Indian cottage cheese (paneer) along with a yummy and exciting combination of Indian and Italian tastes. This pizza is world famous pizza recipe because of its tangy taste. You can make this pizza with your choice of base and vegetables. Try to make this spicy and delicious vegetable paneer pizza in your own kitchen.
Preparation time: 5 minutes
Cooking time: 6 minutes
Servings: 1 medium size pizza with thin crust
Ingredients:
2 tsp pizza sauce
2 tsp pizza Italiano shredded cheese (store bought)
2 small green chillies chopped
12-15 small size paneer cubes
1/4 green bell pepper thinly sliced
1/4 red paprika thinly sliced
Few Corns
1/4 onion thinly sliced
1/2 tomato thinly sliced (remove pulp)
Salt to taste
For Seasoning:
1/4 tsp flaked red chilly (store bought)
1/4 tsp mixed herbs (store bought)
How to make Vegetable Paneer Pizza:
Preheat the oven to 480 F (250 C).
Spread pizza sauce evenly on pizza base.
Sprinkle little bit of shredded cheese.
Rub little bit of salt gently over the chopped vegetables and over the paneer. Spread equally on the pizza base.
Spread the chopped green chillies as well.
Sprinkle the remaining shredded cheese over the vegetables and paneer topping.
Bake in the oven for 3-4 minutes and then toast for 2 minutes or until the surface become brown and veggies become tender.
Take out from the oven, cut into 4-6 slices, sprinkle the seasoning and enjoy awesome home made pizza.
Chef Tips:
You can add corns and mushrooms for more flavors.
For making the same pizza on the griddle, you have to cook all the vegetables along with ginger-garlic, but it will not give the taste of oven baked pizza.