Vegetable Sandwich is one of the most popular Street Snack Dish in Mumbai. Here Bakery Bread Slices are stuffed with Butter, Green Chutney and lots of healthy Vegetables and turned into a delicious Bombay Sandwich. All the vegetables and flavoring ingredients such as green chutney and chaat masala are the key ingredients for making perfect Mumbai Sandwich.
Vegetable sandwich is a wholesome meal that you can feast on however short of time you are and this particular Veg Sandwich is my all time favorite sandwich. It is tasty in eating and because of colorful vegetables and nutritional values, this sandwich is healthy as well.
You can make this recipe Fat Free by removing butter from it. Without butter this sandwich will have only 1.69g of Fats.
I remember very well, during my college days, when i use to be hungry and sometimes without a Tiffin Box, me and my friends would go to the sandwich-wallah near my college and have the plain or toasted veg sandwich. I use to amazed with his speed of making several sandwiches at a time with a perfect shape and taste.
My hubby likes Vegetable Sandwich a lot and sometimes when he is hungry, he just start making it very fast, because he has been eating sandwich and watching the sandwich wallas since his childhood. I always keep spicy green chutney and all salad ingredients in my fridge. So it becomes easy for me to make it at any time I want.
All the pictures of making vegetable sandwich are quickly clicked, because I did not want it to become soggy. Let us show you how to make tasty and easy homemade Vegetable Sandwich Recipe.
For Serving you will require:
Coriander Chutney
Tomato Ketchup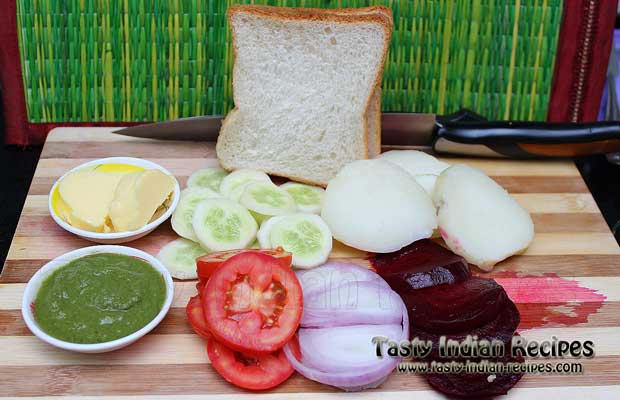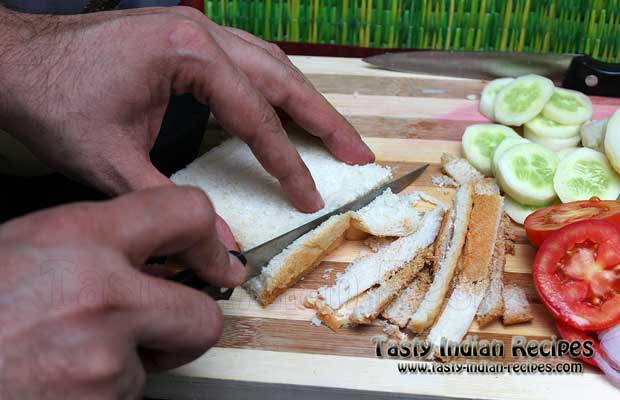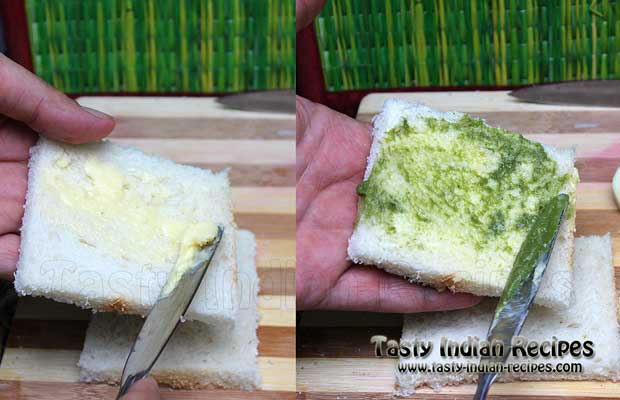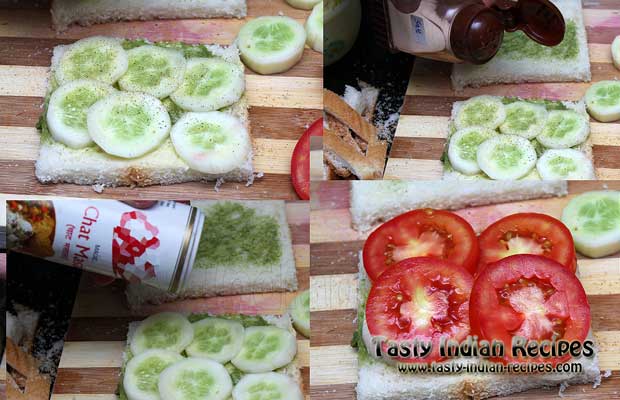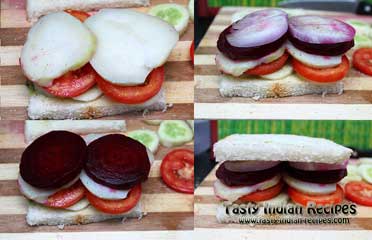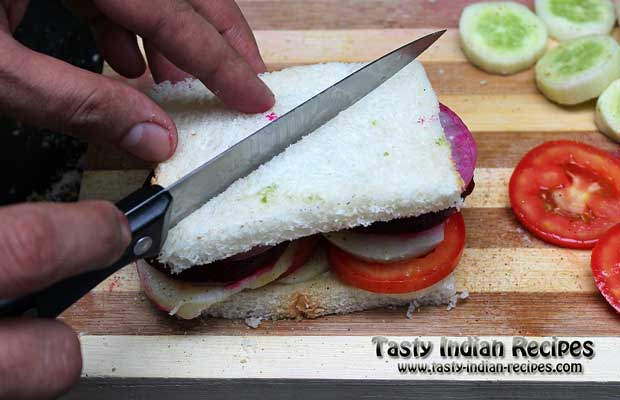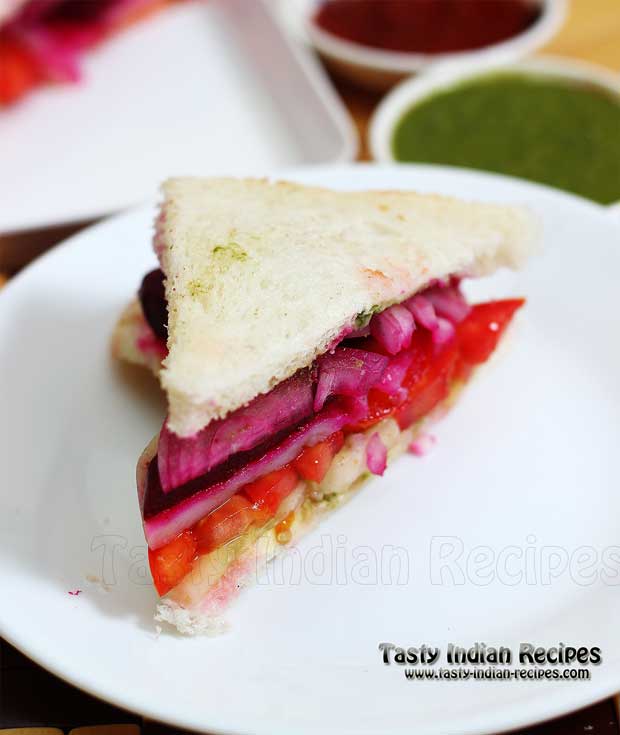 How to make Vegetable Sandwich Recipe:
Vegetable Sandwich Recipe
Vegetable Sandwich Recipe is made with bread, butter green chutney and healthy vegetables. Vegetable Sandwich is very popular street food in India. You can make this recipe Fat Free by removing butter from it. Without butter this sandwich will have only 1.69g of Fats.
Ingredients
4 pieces of bread slices (brown or white)
1 cucumber (peeled and cut into thin slices)
1 potato (boiled and thinly sliced)
1 onion, thinly sliced
1 beetroot (boiled and thinly sliced)
1 tomato, thinly sliced
1/4 cup spicy coriander chutney
1/4 cup butter
1 tablespoon tomato ketchup
Salt to taste
Chaat masala to taste
Instructions
Trim off the edges of each slice of bread and apply some butter and coriander chutney on all bread slices.
Place a few slices of cucumber and sprinkle salt and chaat masala over it. Now arrange few slices of potato and sprinkle chaat masala over it.
Arrange few slices of tomato and onion and again sprinkle salt and chaat masala. Finally place few slices of beetroot and sprinkle salt and chaat masala over it. After arranging each type of sliced vegetable, make sure to sprinkle good amount of salt and chaat masala on it. So that sandwich turns very tasty.
Place another slice of bread, with the buttered side facing downwards and press it lightly.
Cut into 2 or 6 equal pieces, place them on a plate and serve immediately.
Repeat with the remaining ingredients to make one more sandwich.
Notes
It is very important to cut all the vegetables into very thin slices, so that after having each bite of sandwich you can feel the taste, flavor and crunchiness of every vegetable that you are adding into it.
Tasty Indian Recipes
Chef Tips:
Taste your chaat masala, if it contains salt then you need not to sprinkle salt again and again. I used salt after arranging every vegetable, because my chaat masala does not contain salt.
Now a days, sandwich masala is also available in market. You can use that too.
Vegetable Sandwich should be served immediately or it becomes soggy and tasteless.

Brown bread is considered as a healthier version of this sandwich.

For making it a Jain version use generous amounts of cucumber and tomatoes in the above recipe. Do not add onions, potatoes and beetroot.