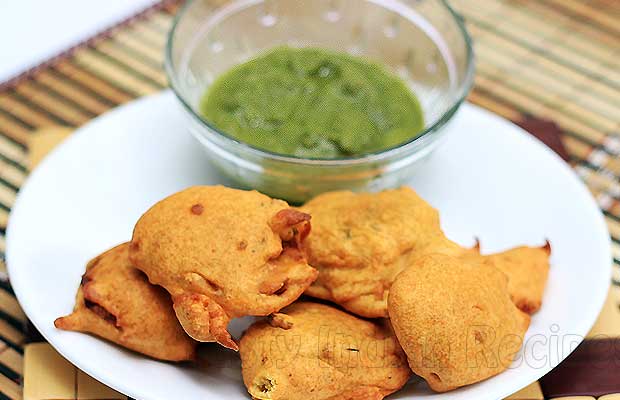 Aloo Pakora or Batata Bhajji has always been my favorite snack at home. Potato Pakoras is a wonderful snack dish to have, when you feel really something to enjoy in winters or monsoons. This Pakoda dish warm up your tea time with family and friends. Aloo Pakora are simply cooked with sliced potatoes and besan.
I generally make them at home and we enjoy either with evening tea or even sometimes with meal. My Aloo Pakode are always cooked soft and melts in mouth. You can feel crispy and golden potato slices in every bite. They are best to serve with coriander chutney and tamarind chutney.
Aloo pakora is also a street food snack in Mumbai, and you can get them in street vendors, where they sell vada pav, samosa and mix bhajiya. These hot pakoras sandwiched in pav (Indian buns), drizzled with green chutney, sweet chutney and garlic red chili chutney is the best choice to serve in front of your hubby, specially when he had come from office and feeling tired.
I made the aloo pakoras for evening snacks with tea, and tried to catch step by step images to show you well. Because I personally know that many people, especially folks who are new in cooking, do not get the proper texture and consistency of the batter for making pakoras. Frying is important here but the most important is that each potato slice has to be coated completely with the batter and the pakoras should puff up while frying. Thats an ideal aloo pakora. Hopefully, this step by step method will help you in making yummy, homemade Aloo Pakora. Lets start step by step recipe of making potato pakoras.
How to make Aloo Pakora Recipe:
Aloo Pakora Recipe or Batata Bhajji are made with Potato Slices. Here step by step method will help you in making yummy, homemade Aloo Pakora at home.
Ingredients
2 medium size potatoes /aloo
1-1/2 cups besan / bengal gram flour
1 tbsp rice flour (optional)
1/6 tsp baking soda
1/6 tsp asafoetida (hing)
1/2 tsp ajwain / carom seeds
1/2 tsp red chilli powder
1/4 tsp garam masala powder
Water for making batter
Salt to taste
Chaat masala to sprinkle
Instructions
Peel the potatoes and cut into thin round slices. Put them in water, till the time you prepare the batter. Take a big bowl and mix in besan, rice flour, baking soda, asafoetida, ajwain, salt, red chilli powder and garam masala powder. Chaat masala can be either mixed in batter or you can sprinkle it over pakoras just before serving. Gradually add water to make a medium consistency batter. Put few potatoes slices in prepared batter and coat them very well from all the sides.
Heat good amount of oil in a frying pan. Carefully drop the coated potato slices into hot oil and fry on a medium flame by flipping over, till the aloo pakoras turns golden from both sides.
Drain on kitchen paper towels and serve aloo pakora with coriander chutney.
Notes
Tasty Indian Recipes
Further Reading:
If you are looking for more pakora recipes then do check  crispy vegetable pakora, cheese pakora, bread pakora and paneer pakora.