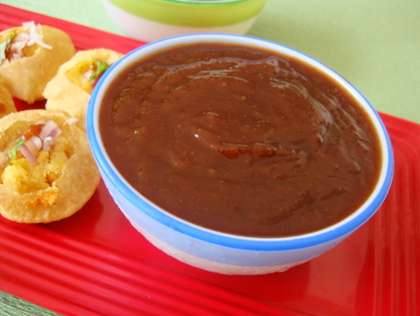 Tamarind Chutney is the most demanding chutney in India. Almost all the snack dishes and street chaats are flavored with tamarind chutney. Learn how to make easy and tasty homemade Tamarind chutney recipe.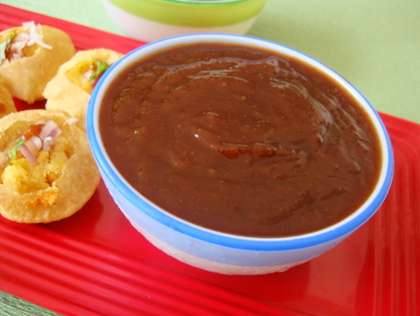 Preparation time: 5 minutes
Cooking time: 12-15 minutes
Servings: 4
Ingredients:
2 cups tamarind (imli)
1 cup jaggery (gur)
1-1/2 tsp roasted cumin powder
1 tsp garam masala powder
1 tsp red chilli powder
1/2 tsp black salt
Salt to taste
How to make Imli Ki Chutney (Tamarind Chutney):
Heat 6  cups of water in a big vessel and add tamarind.
Bring it over few boils and cook for 8-10 minutes.
When the tamarind turns soft, strain through the sieve and mix the jaggery and remaining ingredients.
Again keep the vessel on high flame and cook for few minutes till the ingredients dissolves completely.
Mash with the spoon and stir until thickens.
Carefully take out the pulp from the tamarind mixture and cool at room temperature until it reaches to chutney consistency.