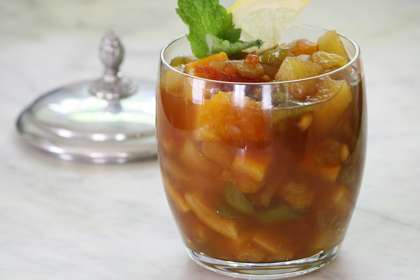 Pineapple Sauce or Pineapple chutney is one and the same thing. This exotic fruit can be highly used in Indian cooking and this delicious chutney can be a great accompaniment with various snacks and Indian chaat dishes.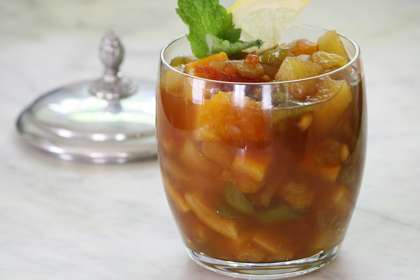 Preparation time: 5-6 minutes
Cooking time: 10-12 minutes
Servings: 4-6
Ingredients:
2 cups pineapple chopped finely
1 tbsp sugar
1-1/2 tsp flour
1/2 tsp methi seeds (fenugreek)
1 tsp rai (mustard seeds)
1 tsp jeera (cumin seed)
1 tsp onion seeds
1 tsp saunf (aniseed)
1/2 tsp haldi (turmeric powder)
1 tsp red chili powder
2 tsp oil
Salt to taste
How to make Pineapple Chutney or Ananas ki Chutney:
Heat the oil in a non-stick frying pan and add the half quantity of seeds.
Saute the seeds on medium high flame and then add pineapple, salt, sugar and remaining ingredients.
Mix very well and add 1 cup water.
Cook till the pineapple turns soft and gets cooked very well.
You can add more water if required.
Roast the remaining seeds on a hot tawa or in a saucepan.
Cool and then make a coarse powder.
Mix the prepared seeds powder in the chutney.
Cook the chutney only for 2 more minutes.
Delicious Pineapple chutney is ready to serve.
For garnishing it, add some chopped cilantro and sprinkle a mint leaf.
Cool the sauce fully and then store in air tight bottle / container.