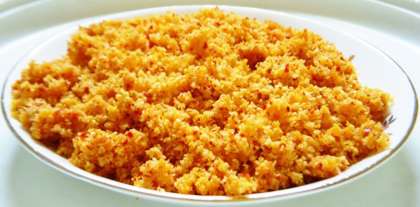 Coconut Podi is also famous as a dry coconut spice powder or a chutney powder that can be easily made at home just by mixing coconut, lentils and whole red chillies. It is a typical South Indian dish that is highly used to flavor several South Indian dishes.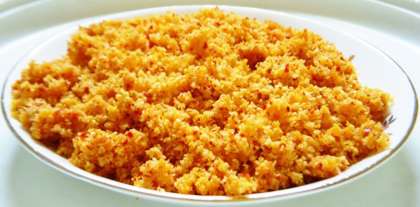 Preparation time: 5 minutes
Cooking time: 12-15 minutes
Servings: 4
Ingredients:
2 cups coconut (narial) (scraped and grated)
4 tbsp split black gram (urad dal)
A pinch of asafoetida
2 tbsp mustard seeds
8 whole Kashmiri red chillies
4 tbsp oil
Salt to taste
How to make Coconut Podi:
Heat 2 tbsp of oil in a big non-stick pan and fry the grated coconut until turns to brownish in color.
Cool aside and till that proceed for further steps.
Heat the remaining oil and temper the seeds along with whole red chillies.
Add urad dal and roast for few seconds on medium high flame.
Remove the mixture from flame and cool aside.
Now mix all the ingredients and grind to a coarse powder.
Store in an air tight jar / bottle for further use.