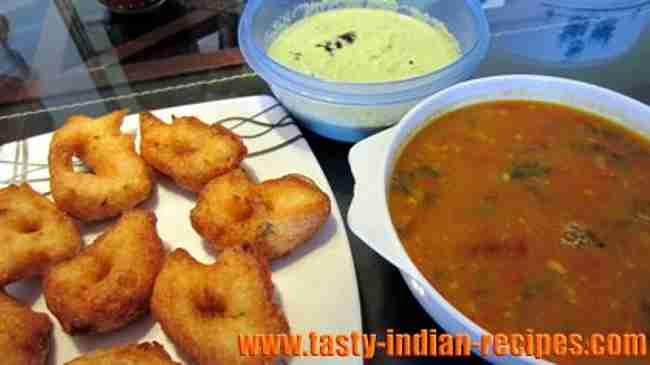 Medu Vada is simply made by blending and mixing the urad dal and normal rice. Medu Vada is the special and tasty snack dish of South Indian cuisine. They are crunchy and yummy when to be served with the sambar and coconut chutney. Learn to make quick and tasty home made medu vada's, which you can make at any time you want.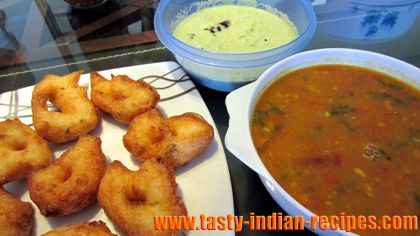 Preparation time: 10 minutes
Soaking time: 8-10 hours
Cooking time: 10-12 minutes
Servings: 4 persons
Ingredients:
2 cups White urad dal (split black lentils without skin)
1/2 tsp peppercorns crushed
4 green chillies finely chopped
1/2 tsp onion powder
A pinch of baking soda
Oil to deep fry
Salt to taste
How to make Medu Vada:
Soak the urad dal for 8-10 hours or overnight.
Next morning grind to make a smooth batter.
You may use little amount of water while grinding.
Add salt, baking soda, onion powder, crushed peppercorns and green chillies.
Heat sufficient oil in a pan.
Now take a small portion of the batter, make a whole in the center with the help of you thumb and pour directly into the hot oil.
Fry these vada's few at a time until golden brown in color.
Take out on oil absorbent paper and serve with sambar and coconut chutney.
Chef Tips:
You can add chopped onion in the batter.
For giving the proper shape to the vada's, arrange the small balls on a plate, then make the wholes in the centers and pour into the hot oil.
If you are making these vada's for the first time then you may will not be able to make proper vada's, but don't worry, you will expertise after few tries. So keep trying.