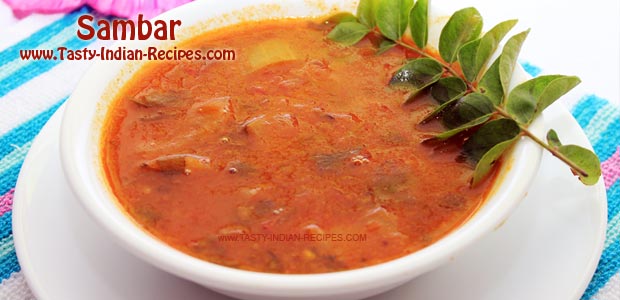 Sambar is the basic delight of South Indian Cuisine. Sambar is made of dal and vegetables of your choice and then flavored with tamarind and other spices. A South Indian Meal is just incomplete without this sambar. It is the most preferred dish of South Indian Cuisine. Some people serve sambar with the rice also. Learn to make tasty, healthy and quick sambar recipe.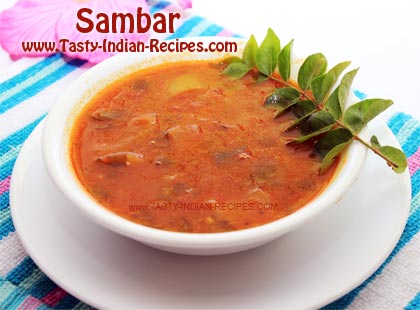 Preparation time: 5 minutes
Cooking time: 20 minutes
Servings: 6
Ingredients required for making Sambar Recipe :
2 cups toovar dal (arhar dal / tur dal)
1 big onion shallots
4 tomatoes chopped or pureed
1 cup bottle gourd (lauki, doodhi) cut into chunks
1 cup drumsticks (Saijan ki phalli or saragavo) cut into 4-5 pieces
1 cup tamarind soaked in 2 cups of water
4 green chillies chopped
1/2 tsp mustard seeds (rai, sarson)
1/2 tsp cumin seeds
4-5 curry leaves
2 dried red chilli (broken in bits)
1 tsp sugar
1/2 tsp red chilli powder
1/2 tsp turmeric powder
2 tbsp sambar masala
Fresh chopped coriander leaves
2 tbsp vegetable/canola/sunflower oil
Salt to taste
How to make Sambar:
Let's quickly have a look on the ingredients that required for making South Indian style sambar recipe. I have used Badshah Sambar Masala, because I like its flavor, but you can use any branded sambar masala powder.

Wash the dal thoroughly and pour in the pressure cooker along with 8 cups of water. Add salt and cover the cooker. Leave to cook for 7-8 minutes, about 5 whistles. Mash and keep aside.
Heat oil in a vessel and mustard, cumin, red chillies and curry leaves. When the seeds starts to pop up add sliced onion. Add green chillies and fry until onion translucent. Add tomatoes, salt, red chilli powder and turmeric powder. Also add chopped bottle gourd along with pieces of drumsticks and mix well.

Leave to cook on a low flame for 5 minutes. When the pieces of lauki are almost done, add mashed tur dal, sugar and sambar masala powder Now squeeze out the soaked tamarind, throw the scrap and pour its juice into the dal. Garnish with chopped coriander.

Serve this delicious sambar with Idli's, medu vada's and coconut chutney to make a perfect meal.
Chef Tips:
If your sambar is too thick then add water and leave to boil, but do not make watery sambar, so add accordingly and gradually.
For making sambar you may use vegetables of your choice.
If you have ever observed the specialty about South Indian sambar is it's taste, which is sweet and tangy, that why I have added sugar and tamarind. Some people use gud also. So please do not miss these ingredients.
This sambar can be served with aloo vada's also, they really tastes great.
This sambar is great to serve with masala dosa, mysore masala dosa, vegetable uttapam, paneer uttapam, paneer chilli dosa, etc.