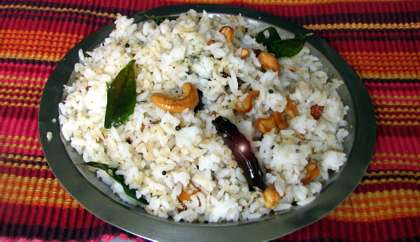 Coconut Rice is the delicious coconut and dry fruits flavored rice dish. A most famous South Indian delicacy can be easily made with good quality rice and carefully chosen chopped nuts.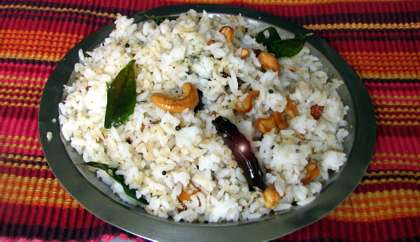 Preparation time: 6-8 minutes
Cooking time: 20 minutes
Servings: 4
Ingredients:
2 cups long grained rice
1/2 cup pure ghee
20 gm black gram
Few curry leaves
3-4 dry chillies
1 cup coconut
1 cup mixed nuts finely chopped
1 cup black raisins
Fresh cilantro chopped
Salt to taste
How to make coconut rice:
Boil the rice in good amount of water, drain and keep aside.
Grate the coconut and fry evenly on a low flame until turns soft and golden in color.
Melt the ghee in deep shaped kadhai and roast the nuts for few seconds. Set aside.
Fry the broken pieces of dry chillies, black gram dal, and curry leaves very well.
Mix the boiled rice, coconut, nuts, salt and some ghee.
Garnish with chopped cilantro, sprinkle the raisins and serve hot.