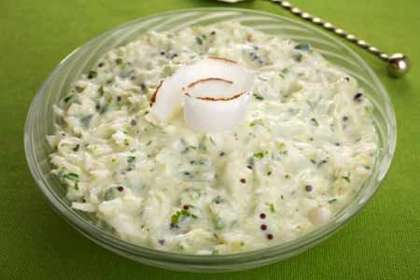 South Indian Coconut Chutney is the ever made tastiest chutney and a great accompaniment with South Indian meal or with various South Indian snack dishes.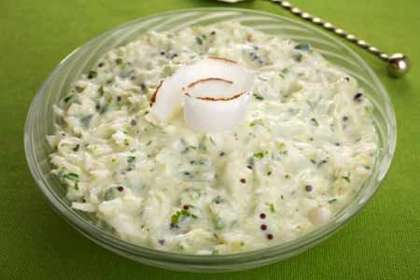 Preparation time: 5 minutes
Cooking time: 5 minutes
Servings: 6
Ingredients:
1 cup fresh coconut (scraped and grated)
2 tbsp ghee
Few curry leaves
100 gm chana dal
4-5 green chillies chopped
2 tsp mustard seeds
How to make South Indian Coconut Chutney:
Roast chana dal in a saucepan and add green chillies.
Fry until light brown and then cool aside.
Combine the fried dal with green chillies and coconut.
Grind and make a smooth chutney by adding little amount of water.
Now mix the salt and grind for few more seconds.
Heat a same saucepan and melt the ghee in it.
Add curry leaves and mustard seeds.
When the seeds starts spluttering, then pour this mixture directly over the ground chutney.
Serve with Dosa, uttapam, medu vada or with any South Indian meal.