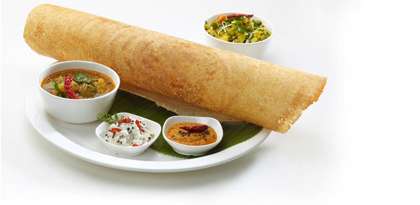 Mysore masala dosa is stuffed with a potato filling and spices, garnished with coriander and red chilli chutney. It is one of the most popular South Indian snack dish, best to serve with sambar and coconut chutney.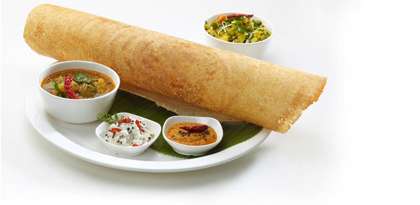 Ingredients:
For making dosa you will require:
1 cup par-boiled rice
1/4 cup urad dal (split black lentils)
1/4 cup toovar (arhar) dal
1 tbsp active dry yeast
3/4 tsp crushed methi (fenugreek)
Salt as per taste
For dosa filling you will require:
3 big potatoes boiled
Few curry leaves
3-4 green chillies chopped
1/2 tsp cumin seeds
1/2 tsp mustard seeds
1 tbsp urad dal
1 big onion finely chopped
A pinch of asafoetida (hing)
1/2 tsp red chilli powder
1/4 tsp turmeric powder
Salt to taste
4 tbsp butter
Oil for cooking
For serving this dosa you will require:
1 cup coriander chutney
1 capsicum thinly chopped
1 medium size tomato chopped
1/2 cup red chilli chutney
Chaat masala to sprinkle
Fresh coriander leaves chopped
How to make Mysore Masala Dosa:
Mix the yeast in 1 cup of warm water and keep aside.
For making dosa, soak the rice and both dals for 5-6 hours in good amount of water.
During soaking them, add fenugreek seeds, mix and keep aside.
Grind the soaked mixture with sufficient water.
While grinding, add salt and make a smooth batter.
Add the yeast mixture into the batter and mix well.
Cover the batter and keep aside for an hour.
In the meantime, start making potato bhaji.
Heat 1-1/2 tbsp of oil in a pan and add curry leaves along with green chillies.
Saute for few seconds and add urad dal, cumin and mustard seeds.
Add chopped onion, salt, asafoetida, red chilli powder and turmeric powder.
Cook over moderate heat for 3-4 minutes.
Mash the boiled potatoes and stir with the pan mixture.
Cool the mixture and set aside.
Heat a non-stick tawa and grease with little oil.
Spread 2 tbsp of dosa batter evenly on hot tawa and put some butter over it.
Cook until dosa little browned on medium high flame.
Spread a tsp of coriander chutney, capsicum and tomatoes.
Spread the potato bhaji in the middle portion of dosa.
Put 1/4 tsp red chilli chutney, flatten with the spoon and sprinkle some chaat masala.
Finally spread good amount of chopped coriander leaves.
Fold the stuffed dosa from both sides, just like an envelope.
Serve immediately with coconut chutney and sambar.