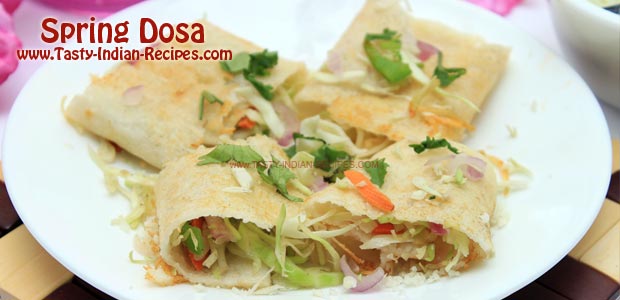 Spring Dosa is little unique from normal dosa recipes. You can choose your favorite vegetables and stuff it in a normal dosa with a little twist. I generally make it at the time of breakfast or sometimes even as a evening snack dish, when I'm in hurry. Now a days dosa batter is also easily available in the market. But if you want to make your own dosa batter, then please ready my recipe of dosa batter. Where you can get a correct proportion of dal and rice for making a proper consistency dosa batter.
If your dosa batter is well done, then you can make this spring dosa very easily at home. My family likes the combine flavors of cabbage, carrot, capsicum and onion. So, I'm using all these vegetables in my spring dosa. I use them in different ways, sometimes chopped, sometimes grated or even thinly sliced. I put some onion rings as well, that gives a crunchy taste while serving it.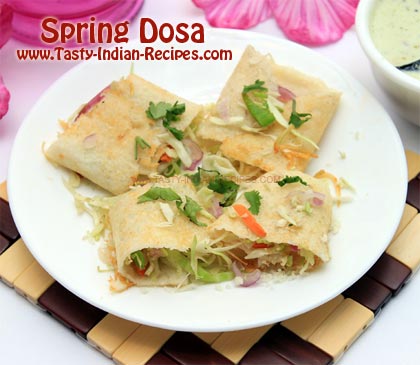 Prep Time : 5 minutes
Cook Time : 5 minutes
Total Time : 10 minutes
Servings : 8
Ingredients required for making Spring Dosa Recipe:
2 cups dosa batter
1/2 cup cabbage finely chopped / grated
2 small onions finely chopped /grated
Few onion rings
1/2 carrot (peeled and thinly sliced)
1 big capsicum thinly sliced
2 green chillies thinly sliced
4 tbsp butter
Oil or ghee for frying
Chaat masala to sprinkle
Salt to taste
How to make Spring Dosa Recipe :
Keep dosa batter ready along with a wet kitchen napkin. Heat a big non-stick tawa and clean it very well with wet kitchen cloth, when the tawa is very hot. It will help to remove the greasy particles from tawa and clean it thoroughly. Now place a big tbsp of dosa batter on the center of tawa and spread it evenly in a round shape. (note: Tawa should be well cleaned and properly wiped off for making any type of dosa recipe).

Try to make a medium thick round of dosa. Drizzle some oil and cook on one side at low flame. Spread a tsp of butter and leave to for few seconds to get cooked. You will observe dosa will automatically start coming up from tawa, it means it is getting ready very well and you will be able to flip it properly. No need to do hurry of flipping dosa at this stage. Keep the flame very low in throughout the process of making dosa.

Till dosa is getting ready, in the meantime, saute the veggies in a non-stick pan. Add salt to taste and chaat masala powder. Spread the chopped vegetables along with green chillies, as per your requirement. Sprinkle some chaat masala all over and cook till dosa is well done. Roll and cut into desired pieces for serving.

Serve hot with sambar and coconut chutney.