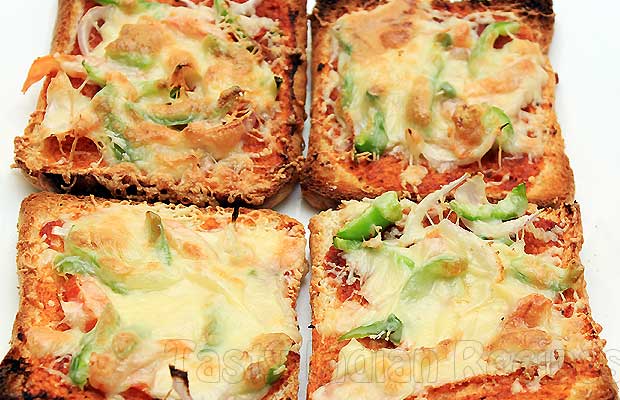 Bread Pizza is a quick, easy and kids friendly snack recipe, topped with Fresh Vegetables and Cheese. My family loves eating bread, therefore I always keep the stock of bread at home. Bread Pizzas are the perfect and instant munchies to enjoy at any time at home. It is so simple and easy that kids are delighted to have this bread pizzas on daily basis.
Bread Pizzas are tiny, cute pizza bites made with toasted bread slices and topped with sliced veggies and lots of cheese. Sometimes, these bread pizzas becomes the best solution to fulfill hunger of me and my hubby, specially when we are tired and came home very late, after hanging around and lots of shopping.
We have regular vegetables always available in our refrigerator, so without wasting much time I go ahead with these quickly made tastiest bread pizzas. All the bread and cheese lovers can have a good time with my quickly made bread pizzas, so here I am with a great solution and a superb dish to satisfy your pizza craving even in the mid night.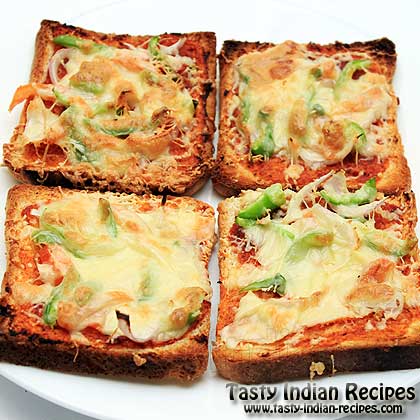 How to make Bread Pizza Recipe:
Bread Pizza Recipe is made with Bakery Bread, topped with Fresh Vegetables and Cheese. It can be made at home in just a few minutes and kids really love it.
Ingredients
8 Bread slices
2 teaspoon unsalted butter
1 small onion
1 tomato
1 capsicum (bell pepper)
1/2 cup pizza sauce
1/2 cup cheese, grated
Salt to taste
Instructions
Arrange the bread slices on a chopping board, spread a good amount of butter and pizza sauce on all bread slices.
Slice the vegetables thinly (you can add mushroom or paneer in this). Arrange the vegetables on all bread slices and top with generous amount of grated cheese. (I have used parmesan cheese here but you can go with mozzarella cheese as well).
Preheat the oven at 250 degrees F and arrange the pizza breads in it. Bake the pizzas for about 15 minutes, till they turns slightly browned and cheese starts melting.
Yummy bread pizzas are ready to serve.
Notes
You can sprinkle some oregano and red chilli flakes just before serving.
Tasty Indian Recipes
Chef Tips:
Read how to make Pizza Sauce at home.
These delicious Bread Pizzas can be cooked on tawa as well.
You can serve them with Tomato Ketchup.
Further Reading:
These Instant made Bread Pizzas can be a good choice to pack for your kids School Tiffin.
You may also like to read variety of other Pizza Recipes.