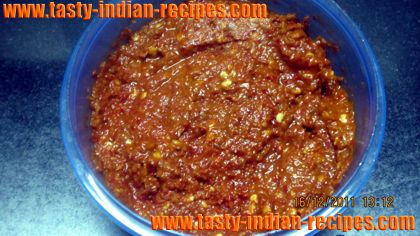 Pizza Sauce is the perfect blend of dried red chillies, tomato sauce, oregano and other seasonings. It is an ideal sauce for making any type of pizza. Any gourmet pizza is incomplete without using this sauce. Learn to make the healthy and spicy home made pizza sauce to set off your pizza.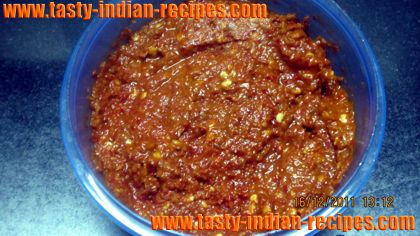 Preparation time: 5 minutes
Cooking time: nil
Servings: 2 cups for 4 pizzas
Ingredients:
8 dried red chillies
1 tsp tomato ketchup (store Bought)
2 tbsp fresh tomato paste
4 cloves garlic
1/2 inch ginger
1 tsp oregano
1/4 tsp sugar
1 tsp onion powder
1/4 tsp dried basil
1/4 tsp ground black pepper
Salt to taste
How to make Pizza Sauce:
In a grinding bowl combine dried red chillies, garlic, ginger, dried basil, sugar and little bit of water.
Blend until smooth.
In a large bowl add tomato ketchup, tomato paste, ground red chilli paste, salt and black pepper.
Stir in onion powder and oregano.
Mix well and leave to set at least for 2 hours to blend all the flavors.
Spread over pizza base and make your favorite pizzas.
Chef Tips:
Store pizza sauce in an air tight container, it will last for a week in your refrigerator.
Use this pizza sauce for making plain pizza's or pizza with toppings.
You can use rosemary leaves to make it more flavorful.
You can use this delicious pizza sauce for making various pizza's such as: