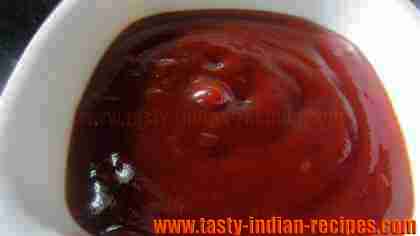 Fresh Tomato Sauce is a true blend of fresh red tomatoes, onion, ginger, garlic and other tasty ingredients. This sauce consists a high amount of fibre and iron. Learn how to make delicious homemade fresh tomato sauce recipe in just few minutes.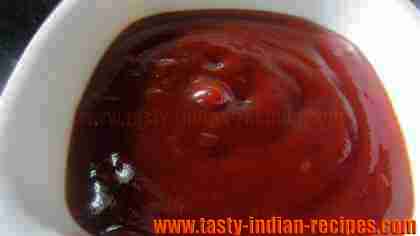 Preparation time: 12-15 minutes
Cooking time: 15 minutes
Servings: 6
Ingredients:
2 kg fresh tomatoes
3-4 cloves garlic
2 inch ginger piece
1 small onion thinly chopped
1/2 tsp red chilli paste
1 bay leaf
2-3 bits cinnamon
2 cups powdered sugar
2-3 peppercorns
2 cardamoms crushed
1/2 tbsp vinegar
1 tsp salt
How to make Fresh Tomato Sauce:
Clean the tomatoes and remove the outer skin.
You can either chop or grate them.
Now take a big vessel, add tomatoes, onion, garlic, ginger and sugar.
Place the vessel over medium high heat for 5-6 minutes.
Add spices and cook until sauce thickens.
Mash continuously to blend the spices very well with the tomatoes.
Cool the mixture completely and strain through a sieve.
Serve with snacks, paratha's and breakfast recipes.
Chef Tips:
This sauce can be served little bit of warm or cold, in both ways this sauce is a great accompaniment.
You can refrigerate this sauce in air tight container for 6-7 days.
If powdered sugar is not available then use normal sugar and grind it to make a smooth powder.