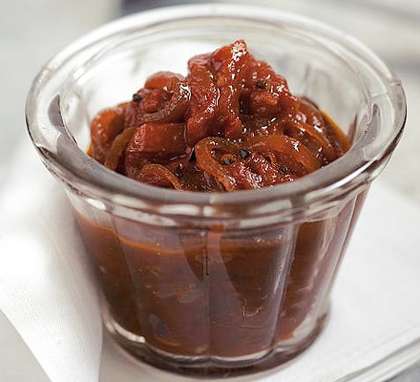 Tomato Sauce / Tomato Chutney is a tangy flavored homemade sauce recipe, here I have chosen the fresh and big tomatoes along with the fresh Indian spices and made this healthy (Tamatar Ki Chutney), that is best to serve with lunch or dinner.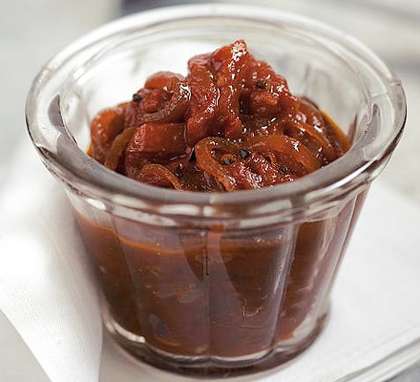 Preparation time: 6-8 minutes
Cooking time: 20 minutes
Servings: 6
Ingredients:
1 kg fine red tomatoes (cut into big chunks)
2 inch ginger piece finely chopped
6-7 cloves garlic minced / chopped
2-3 dry red chillies
4 tbsp white spring onions finely chopped
2 tbsp green spring onions chopped
2 tbsp fresh cilantro chopped
2 tsp oil
Salt to taste
How to make Tomato Chutney:
Soak the red chillies in good amount of water for about 30 minutes.
Drain and chop them finely.
Heat the oil in a non-stick pan, add chopped white onions, ginger, garlic and some salt.
Stir fry on medium high flame for 5-6 minutes until lightly brown.
Now add chopped chillies along with chopped tomatoes.
Cook for about 12 minutes by stirring occasionally.
Make sure you need to stir in the tomatoes till they turns soft and can be mashed easily.
When the tomatoes are done, allow them to cool completely.
Finally add chopped cilantro and green spring onions by mixing well.
Refrigerate it for few hours to serve chilled or serve it at a room temperature.