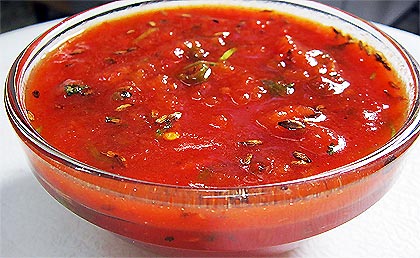 Tomato Chutney is a sweet and tangy blend of tomatoes, sugar, dates and tamarind. It is one of the most famous chatni and specialty of Bengali Cuisine. You can serve it at the time of lunch or dinner as a side dish. It can be a great accompaniment with snack dishes and starters as well. Any ways it is all time yummy recipe.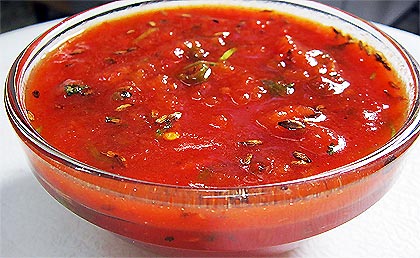 Preparation time: 5 minutes
Cooking time: 20 minutes
Servings: 6
Ingredients:
8-10 big tomatoes (cut into big chunks)
2 cups sugar
4 green chillies thinly chopped
Few curry leaves
1/2 tsp cumin seeds
1/2 tsp mustard seed
2 tbsp dates (khajur) chopped
1 tbsp tamarind (imli)
1/2 tsp roasted panch phoron powder
2 tsp oil
How to make Tomato Chutney:
Soak the tamarind in the water for about 10 minutes.
Take out whole pulp and drain aside.
Heat 4 cups of water and add sugar.
Stir continue until sugar syrup gets ready.
Heat the oil in a non-stick pan, add green chillies, curry leaves, cumin and mustard seeds.
Allow them to splutter for few seconds.
Now add chunks of tomatoes and stir with the salt.
Mix the sugar syrup and tamarind pulp.
Stir fry until chatni becomes thick, dark and red in color.
Finally add chopped dates, mix well and cook for 3-4 more minutes.
At the time of serving, sprinkle roasted panch phoron powder over the chutney and enjoy yummy tomato chutney with rice flour roti or bajra roti.
Chef Tips:
You may adjust sugar and spices as per your taste.
You can garnish this chutney with little amount of chopped coriander leaves.