Fruit Sandesh is a classic Bengali dessert, simply relished and flavored with fresh and healthy fruits. I generally make this Bengali Sandesh at home and add my favorite fruit flavors into it, such as cherry, strawberry or sometimes orange and pineapple.
Though It's a Bengali Sweet Dish, but enjoyed by everyone on special Indian Festivals. A light, beautiful and pearl bright desert is just made with fresh homemade paneer (Indian cottage cheese). Creamy and yummy sandesh (Bengali classic) is topped with fresh fruits and in west Bengal it is famous as a Bengali Fruit Sondesh Recipe.
Today I have given a tough of Pineapple and Cherry to my Fruit Sandesh, because only these fruits were available at home. You can use your favorite fruits for flavoring it, such as Oranges, Apples or even Strawberries.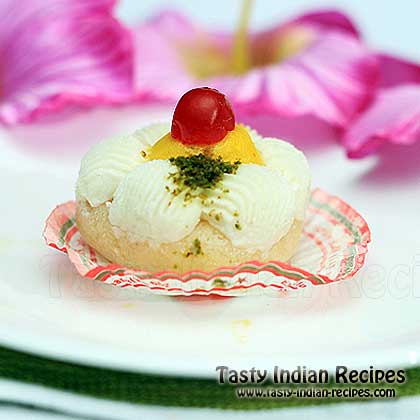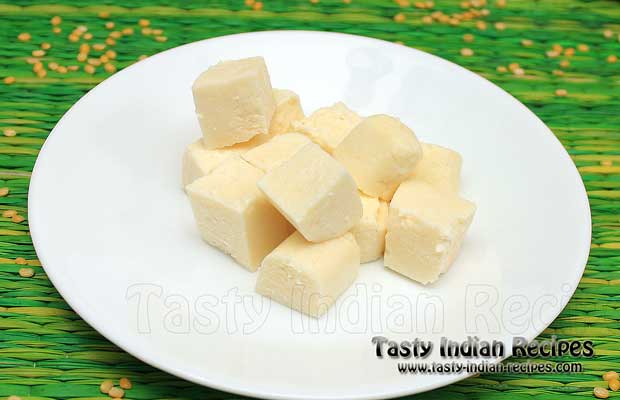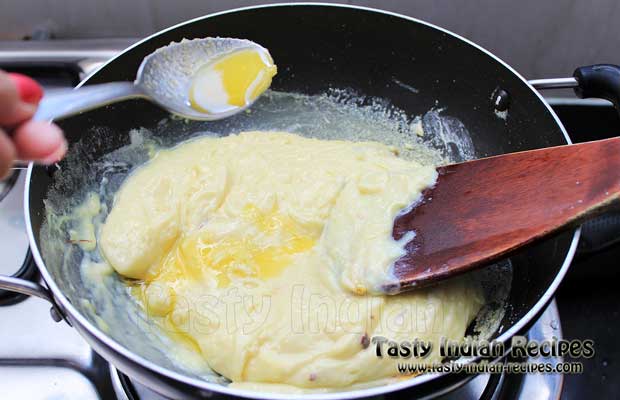 How to make Fruit Sandesh Recipe:
Fruit Sandesh Recipe is a Classic Bengali Dessert, simply relished and flavored with Fresh and Healthy Fruits.
Ingredients
200 g fresh, homemade paneer (cottage cheese)
1/2 cup sugar
2 drops rose water
1/8 teaspoon cardamom powder (elaichi powder)
1 cup pineapple, chopped
2 tablespoon fresh cherries (cut into half)
2 tablespoon thick fresh cream
1/2 teaspoon ghee
Instructions
Take paneer in a big bowl and mash it with your hands. Mix in sugar, cardamom powder and rose water and knead into a smooth dough.
Divide the prepared mixture in two equal parts and saute one part in a non-stick pan just for a few seconds. Spread little ghee all over. Remove from the fire, allow to cool down and mix with remaining dough.
Knead again for few more minutes and then roll out the mixture into 1/2? thickness.
With the help of cookie cutter, cut the small rounds and place on serving plates.
Decorate with fresh cream, a chopped piece of pineapple in the center and half of cherry. (just like shown in image). You can sprinkle some cardamom powder.
Keep in refrigerator for few hours till it sets.
Notes
Fruit Sandesh should be served chilled to enjoy true Bengal flavors.
Tasty Indian Recipes
 Chef Tips:
Bengali sweets must be consumed within a day or two.
You can decorate this sweet desert with fresh fruits of your choice.

Fruit Sandesh
Further Reading:
You may also like Kesar Peda, Dharwad Pedha and Boondi Halwa.