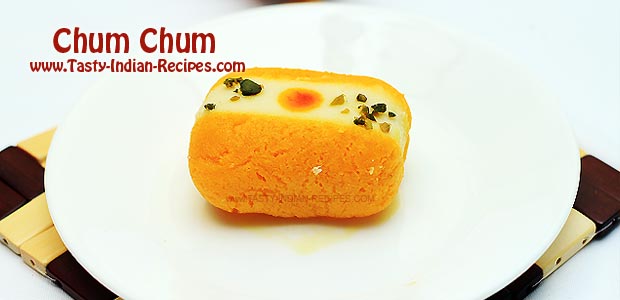 Chum Chum is the most delightful Bengali sweet dish made with Indian cottage cheese, maida, milk and sugar. The procedure and the ingredients are so easy that you can easily make it in your home. You may adjust sweetness as per your requirement. Chum-chum is specially served to celebrate Hindu festivals and special days.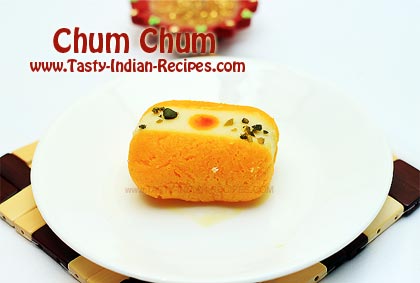 Preparation time: 10 minutes
Cooking time: 25-30 minutes
Servings: 20
Ingredients required for making Chum Chum Recipe:
500 gms paneer ( Indian cottage cheese)
4 tbsp maida (all-purpose flour)
200 gms unsweetened milk
2-1/2 cups sugar
2 tbsp butter
2 cups water
1/4 tsp saffron strands
A pinch of lemon color
1/2 tbsp green cardamom powder
How to make Chum Chum Recipe:
Melt the butter in a saucepan and keep aside.
Combine the milk, saffron and cardamom powder and keep aside.
Dissolve the lemon color in 2 tbsp of water and set aside.
Heat the water in a big vessel and dissolve the sugar completely to make a thin syrup.
Mix the paneer and maida very well and make the oval-shaped fingers.
Dip the paneer fingers into the sugar syrup and keep the vessel on medium high heat.
Leave for about 6-7 minutes.
Take off the chum-chum from the heat and mix the lemon color .
Cool for a while and take out the chum-chum from the syrup.
Finally mix in saffron mixture  and spread the melted butter on each piece of chum-chum.
Keep in the refrigerator for few hours and serve cold.
Chef Tips:
Chum-chum is ever delicious sweet dish and best to serve when cold and refrigerated well.
You can refrigerate this special delicacy dish at least for 4 days.
You may top this chum-chum with your favorite chopped fruits such as kiwi, apple, orange, etc.
You may also like other Indian Festival Recipes.