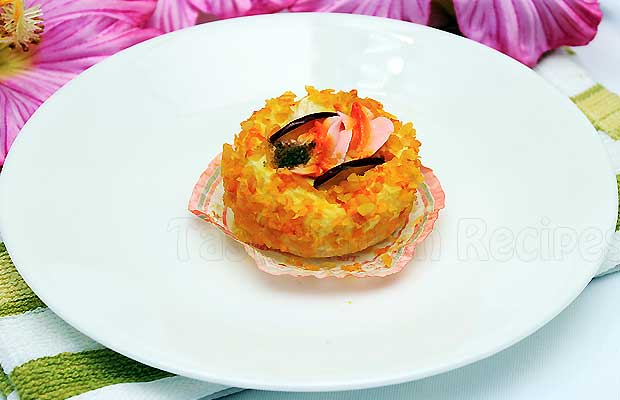 Pineapple Sandesh is the most amazing sweet Indian Dessert from the state of Bengal. Flavorful Pineapple Sandesh is simply made from pineapple and Indian cottage cheese (paneer). Beautiful and tasty Sandesh rounds, having the awesome flavors of shredded pineapple and an ultimate taste of saffron and dry fruits.
Sandesh is a famous Bengali Sweet Dish and is generally made during celebration of various Bengali Festivals. I remember, first time I tasted this dessert at Durga Puja, which was held in our society premises.
Durga puja (the biggest festival for Bengalis) or Navratras brings the blissful time when people offer prayers to  Goddess Durga and make small batches of sandesh with the desired texture and their favorite flavorings. Since that day, I just added this dessert in my menu of favorite dishes, then I convinced one of my Bengali friend to teach me the way of making it. Thanks jiya, today because of you I'm succeed in making it and my whole family enjoyed my own made Pineapple Sandesh.
Sandesh can be easily made at home with minimum ingredients but really should be very tasty and sweet. In any occasion,  Bengali people celebrates with sondesh. There is a variety of Sandesh like Plain sondesh, Gurer sondesh, Norom paker sondesh (Soft sondesh), Kora paker sondesh etc. Let's start making Pineapple Sandesh.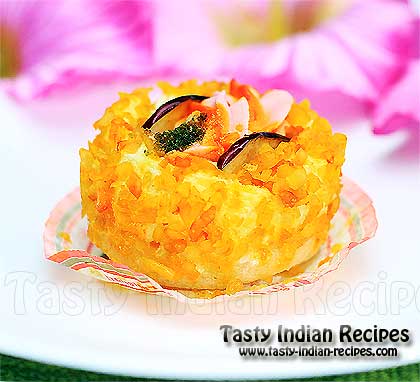 For garnishing of Pineapple Sandesh you will need:
Shredded Pineapple
1 tsp powdered pistachio
Few saffron strands
 How to make Pineapple Sandesh Recipe:
Pineapple Sandesh Recipe is a Traditional Bengali Sweet Dish, made with Indian Cottage Cheese (Paneer) and flavored with Chopped Pineapple.
Ingredients
1 big pineapple (chopped in fine pieces)
1 tablespoon lemon juice
Few drops of yellow food color
4 drops of Pineapple Essence
1/4 cup sugar
1 liter and 1/2 cup milk
Instructions
Soak saffron in 2 tbsp of warm milk and keep aside. Boil remaining milk on medium high heat and quickly take out the cream (malai) from it and keep for boiling once again.
Stir in lemon juice and mix well. Now the boiling milk will start curdling, if it is not happening, then add some more lemon juice to it. When the milk has curdled completely, pour it in a muslin cloth and then pour good amount of cold water for cooling it down.
Extract the traces of lemon juice and hold the cloth very tightly to squeeze enough amount of water from it. Now you must be having a solid curdled milk in form of paneer. Take it out in a bowl and rub with your hands to smoothen it.
Grind the sugar into a fine powder and mix in it. Also add finely chopped pineapple pieces and mix very gently.
Cook this prepared mixture on a low heat in a non-stick pan just for 2-3 minutes and then bring it on to the room temperature. Add pineapple essence along with food color and mix well.
Grease your hands with some ghee and start making small balls from the mixture. Flatten each ball slightly with your palms and garnish with some shredded pineapple and other garnishing ingredients.
Refrigerate at least for 1 hour and serve chilled.
Notes
You can use ready made paneer for making this Bengali Pineapple Sandesh Recipe.
Tasty Indian Recipes
Chef Tips:
You can use ready made paneer here, but I prefer making my own.
For making Rose Sandesh, you just need to add few drops of rose essence and instead of yellow food color, add rose pink food color.
Some people use khoya as well.
All Bengali Sweets must be refrigerated within one hour.
Further Reading :
If you are looking for more sweets recipes then do check Gulab Jamun, Chum chum, Coconut Ladoo and Besan Ladoo.