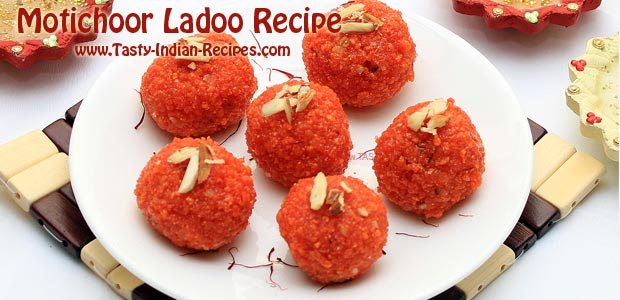 Motichoor Ladoo is an auspicious sweet dish to celebrate several Indian festivals. These ladoos are made just like small boondis resembling rice pearls. It is a standard Indian sweet dish with an eye catching red color and a yummy taste and fragrance.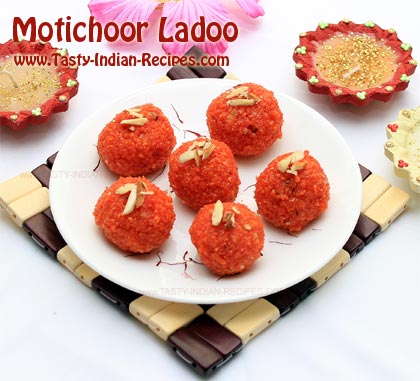 Ingredients required for making Motichoor Ladoo: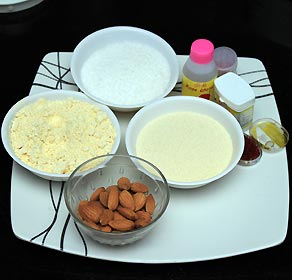 How to make Motichoor Ladoo Recipe:
Motichoor Ladoo is an Auspicious Indian Sweet Dish made with Besan, Semolina, Sugar, Saffron and Cardamom Powder. These Ladoo have an special place in Indian Festivals and Occasions.
Ingredients
2 cups besan (bengal gram flour)
1 cup semoline (suji/rawa)
3 cups powdered sugar
4 cups water
1/4 tsp baking soda
2-3 pinches of red-orange food color
2 tsp rose water
1/4 tsp roasted cardamom powder (elaichi powder)
Few strands of saffron
3 tbsp almonds (chopped)
Instructions
Mix the besan, semolina, baking powder and a pinch of food color in a chopper. Pulse it very finely and gradually add water. Make a smooth and lump free batter.

Heat good amount of oil in a frying pan. You need 2 perforated ladle's for making boondi. One with small holes to make boondi and another one to take out the boondis from oil. Pour a tbsp of batter to the perforated ladle, keeping the ladle on the top of the oil and let the boondis fall into the oil. (just like shown in images)
Let the boondis cook on a medium high flame till they are just soft but not crispy. Drain and keep aside.
Heat the water in a big vessel and add sugar into it. Stir continue till the sugar gets dissolved and the mixture starts boiling. Once sugar gets dissolved, stop stirring and boil till the mixture reaches to a one string consistency. (Check for 1 string consistency. If you take the sugar syrup in your thumb finger and index finger it should form one string consistency).
Switch off the flame, add a pinch of saffron along with a pinch of food color. Mix very well and keep aside.
After few minutes, when the sugar mixture is warmed, pour it over boondi. Also mix few drops of rose water, chopped almonds and cardamom powder. When the boondi's have sucked almost all the sugar syrup, then transfer it into the mixer.

Pulse it for a few seconds, till the mixture becomes firm. Make small ladoos from the mixture. This mixture may be little moist in the beginning, but don't worry after few minutes it will be firm.
Make small round shaped motichoor ladoo's and enjoy with your friends and family.
Notes
You can use Gur (Jaggery) instead of sugar.
Tasty Indian Recipes
Further Reading:
Read one more way of making Motichoor Ladoo.