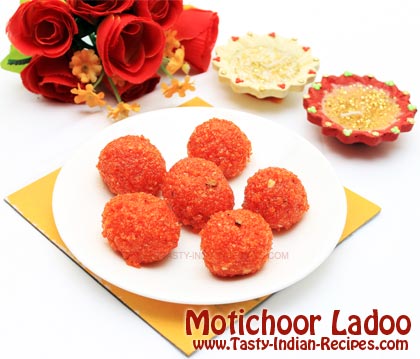 Motichoor Ladoo are simply made with besan, sugar and ghee. These are the delicious homemade motichoor ladoo that are great to celebrate any occasion or festival such as Diwali, Holi, Rakhi and many more. Learn how to make mouth-watering motichoor ladoo in just few minutes.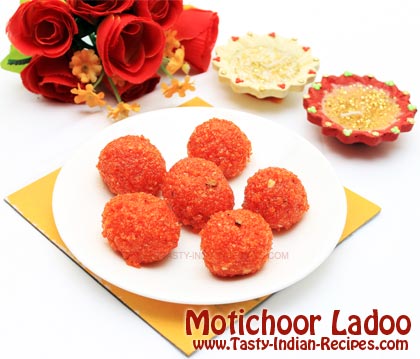 Preparation time: 15 minutes
Cooking time: 30-35 minutes
Servings: 10-12 Ladoo's
Ingredients:
2 cups besan (bengal gram flour)
2 cups sugar
1 cup milk
A pinch of baking powder
A pinch of orange food color
2 tbsp raisins
Oil or ghee to fry
1 tbsp almonds thinly chopped
1 tbsp pistachios
How to make Motichoor Ladoo:
Mix the besan and baking powder very well in a big bowl.
Now add 1 tbsp of ghee and good amount of water to make a thick consistency batter.
Heat up a pan and add oil or ghee.
With the help of holed spatula (perforated holes spoon), drop the small portions of boondies into the hot ghee.
Fry until boondi turns into nice golden brown in color.
Keep the fried boondi aside.
Combine the milk, sugar and orange color.
Dissolve the sugar completely over high heat and make 3 tar ki chashni.
Now add the fried boondies in the syrup.
Also add raisins, almonds and pistachio.
Allow the mixture to cool completely and then make the ladoo or round balls by applying some oil or ghee in your hands.
Chef Tips:
Ghee is preferable for making motichoor ladoos.
You may adjust the sweetness and dry fruits as per your requirement.
ANOTHER way of making Motichoor Ladoo Recipe