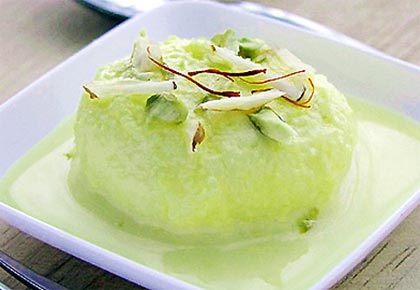 Rasmalai Recipe is simply made with the delicious cheese dumplings, flavored with milk, cream, saffron and rose petals. A smooth layer of milk makes it more special and yummy while serving.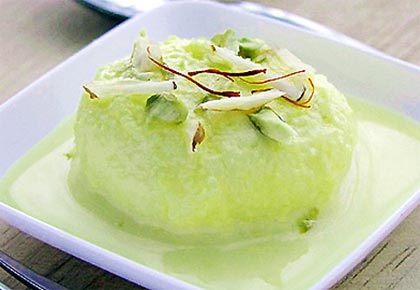 Preparation time: 10 minutes
Cooking time: 30 minutes
Makes 6-8 servings
Ingredients:
200 gm cottage cheese
2 cups ricotta cheese
4-1/2 cups condensed milk
4 tbsp thick fresh cream
1 cup castor sugar
Few almonds blanched
Few pistachios blanched
A pinch of saffron
1/2 tbsp crushed green cardamoms
Few rose petals
A pinch of salt
1 tsp butter to spread on aluminum foil
How to make Rasmalai:
Preheat the oven to 350 degrees F and prepare a baking tray with buttery aluminum foil.
Combine the cottage cheese, ricotta cheese, fresh cream, salt, 3/4th sugar and 4 cups milk.
Mix well and spread the mixture over the prepared baking tray.
Bake for about 25-30 minutes until sets.
Carefully check and do not let the mixture to get dark brown or burnt.
Remove out from the oven and allow the mixture to cool completely at room temperature.
Cut into rounds or squares of about 1-1/2 ".
Put the rasmalai in individual dessert serving bowls/plates.
Mix the remaining milk and sugar in a bowl and pour little bit over each ras malai.
Decorate with few nuts, saffron strands, crushed green cardamoms and rose petals.
Store in the refrigerator for few hours and Serve yummy.
Chef Tips:
Adjust the sweetness as per your requirement.
Rasmalai is simply irresistible when served chilled.