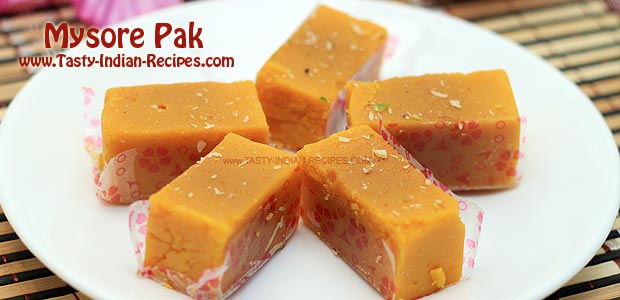 Mysore Pak is a lovely and popular sweet dish of India, traditionally made with the blends of bengal gram flour (besan), ghee and cardamoms.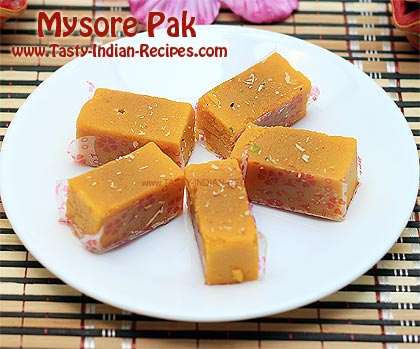 Preparation time: 10 minutes
Cooking time: 25 minutes
Servings: 10
Ingredients required for making Mysore Pak Recipe:
2-1/2 cups besan (bengal gram flour)
4 cups sugar
100 gm pure ghee
A pinch of salt
1/2 tsp cardamom powder
1/4 tsp cinnamon powder
1 cup water
How to make Mysore Pak Recipe:
Grind the sugar into a smooth powder and keep aside.
Melt the ghee in a big non-stick pan and pour the flour in it.
Stir constantly and add powdered sugar.
Mix very well until besan starts getting browned.
Add salt, cardamom and cinnamon powder.
Mix very well and gradually add water.
Stir continue to avoid the lumps of batter.
Cook until ghee starts separating and mixture looks little frothy.
It will take about 17-20 minutes to get ready.
Spread the hot mixture over the greased plate.
Immediately cut into desired shapes and sizes.
Serve yummy.
Chef Tips:
You can cut it into squares, rectangles or even in triangles.
It is very important to cut it when the mixture is hot, else becomes stiff and hard.
This delicious sweet delight can be stored for 15-20 days in air tight container.
You may adjust the sweetness as per your requirement.