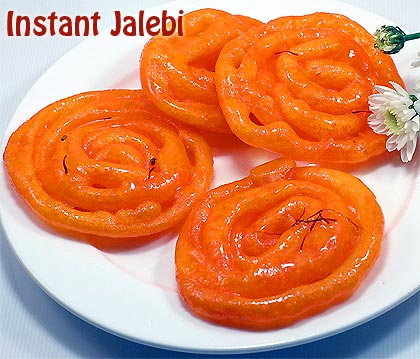 Instant Jalebi Recipe or Jalebi is a famous Indian Sweet Dish generally made on every Indian Festival and celebration. Kids and adults, both like this mouth watering jalebi recipe.
Let me tell you a quick and easy way to make mouth melting jalebi at home. You just need to mix the flour, besan and sugar, make the batter, fry into jalebi shape and then dip in sugar syrup. That's it, in such a simple way, get your homemade jalebi ready in a very less time.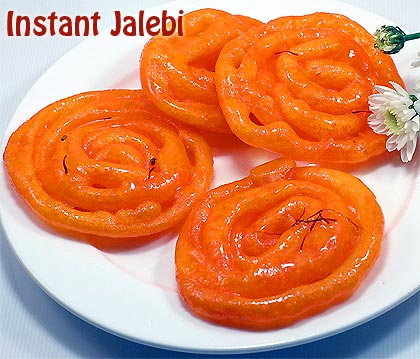 Preparation time: 10 minutes
Cooking time: 15 minutes
Servings: 8
Ingredients:
2 cups refined flour / maida/ all purpose flour
1 cup bengal gram flour (besan)
4 cups sugar
1 cup thick yogurt (curd)
300 gms pure ghee
A pinch of salt
Few saffron strands (kesar)
How to make Instant Jalebi:
In a big bowl combine the flour, besan, salt and yogurt. Mix well and gradually add water to make a batter of medium thick consistency. You may add more amount of water for making the batter of pouring consistency. Keep the batter aside for 2-3 hours.
Beat the batter with your hands again for 15 minutes. Cook sugar with 2 cups water in a deep non-stick pan on high heat, stirring continuously, till the sugar dissolves. Also add few saffron strands to get a nice color. Cook till the syrup reaches to one string consistency. Keep the syrup warm.
Melt the ghee in a big pan.
Pour the batter into a jalebi cloth and hold the cloth very tightly, gather the edges and make a tight potli.
Squeeze round spirals into the hot ghee and deep fry, turning them over gently a few times, till they are evenly golden and crisp.
Drain and soak in sugar syrup for 2-3 minutes. Take the jalebi out from the syrup and serve hot.
Chef Tips:
If you do not have jalebi cloth then don't worry, use any stiff cloth and make a hole in the center from where you can pour the batter into hot ghee.
You may add sugar as per your requirement.
Always taste the batter before making jalebis.