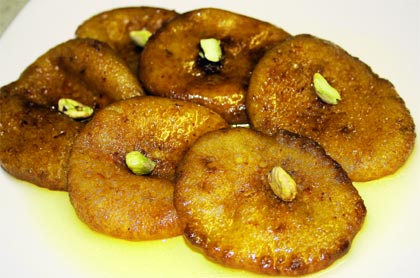 Malpua is a cute, mini pan cake made with the flour, semolina and milk and then flavored with the sugar and saffron. A unique, combined color of yellow and orange makes it more attractive while serving during the festivals. You can bring the proper texture by adding food color of your choice.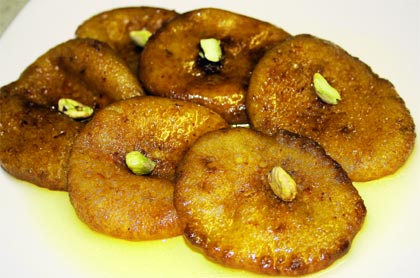 Preparation time: 10 minutes
Cooking time: 30 minutes
Servings: 6
Ingredients:
1 cup refined flour (maida)
1/2 cup semolina (suji/rawa)
4-1/2 cups milk
2 tbsp mawa
2 tbsp khoya
1 cup powdered sugar
1/2 tsp cardamom powder
Pure ghee
3 cups Water
A pinch of orange food color
Few saffron strands
A pinch of salt
How to make Malpua:
Dissolve the sugar completely in water, add saffron and make a sugar syrup of single thread consistency.
Keep on extreme low flame, as we just need to keep it warm.
Keep the milk on medium high heat and add khoya and mawa.
Stir constantly until it starts boiling and reduced to almost half of its quantity.
In a pan, roast the semolina until little browned.
Add the roasted semolina and salt into the boiling milk.
Stir constantly by adding flour, orange food color and cardamom powder.
Continue stir and make a smooth pouring consistency, make sure there should not be any lump in the batter.
Melt sufficient amount of ghee in a big pan.
Pour the prepared batter in a circular motion into the hot ghee and make just like a mini pan cake.
Flip and fry from another side as well until turns crisp and little brown.
Dip the malpua in the prepared sugar syrup and serve on the plate.
Enjoy the delicious sweet with hot (garam) sheera.
Chef Tips:
Malpua are delicious when served hot, hence fry them just before serving.
You may add thinly chopped dry fruits of your choice to make it more tasty and yummy.
Test the batter while cooking and adjust the sweetness as per your requirement.