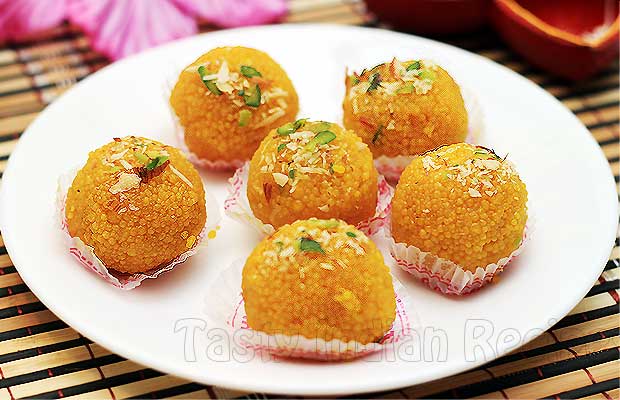 Boondi Ladoo are the special and unique type of Indian Ladoo Recipe. It is a standard Indian Sweet Dish served at just about any special occasion in India. Boondi laddus are made with very small sized boondi, almost like pearls.
Many people think that making laddu/ladoo at home is very difficult but it is not the fact. Making boondi ladoo at home is as easy as we make other sweet dishes in our house. If you think making ladoo is a complicated thing, then just remove all your misconceptions and go ahead for making these yummy ladoos at home.
Boondi Laddu is a delicious Indian sweet to celebrate various special occasions and for festivals like Diwali. I have made this recipe very simpler with step by step cooking instructions and images. So that, it will be convenient for you to make them. These home made laddus are the excellent gifts for Diwali to offer the friends and family. Here Comes the recipe of boondi ladoo.
For making sugar syrup you will require:
3/4 cup water
2 cups sugar
1/4 tsp cardamom powder
1/4 tsp rose water /gulab jal (optional)
Few saffron strands (optional)
How to make Boondi Ladoo Recipe:
Boondi Ladoo Recipe is an Indian Sweet Dish, made with Besan, Ghee and Sugar. Boondi Laddu is perfect for serving in all Indian festivals and celebrations.
Ingredients
1-1/2 cups besan (bengal gram flour)
1/4 teaspoon of soda bi carbonate (cooking soda)
2 teaspoon ghee
2 tablespoon finely chopped mixed nuts (cashew nuts, almonds and pistachios)
3 pieces cloves
1/4 teaspoon yellow food color (optional)
1 cup sugar syrup
Instructions
Sieve the besan and make it lump free. Add cooking soda and food color. Also add water to make a batter, just like dosa batter and maintain the consistency. While adding water to the besan , first add a small amount of water and make it into a thick paste. Then add the rest of the water. The amount of water for this much besan is approximately 1 cup and few tablespoons. This purely depends upon the texture of the besan. Keep the batter aside.
Saute the chopped nuts and cloves in little ghee and set aside. Let's start making sugar syrup now. For making perfect one string consistency of sugar syrup, you need to take the proper portion of sugar and water, which is explained here very well. Mix the sugar with the given amount of water in a heavy bottomed vessel. Add cardamom powder and few strands of saffron. Heat till the sugar gets dissolved stirring in between. Keep the flame very low. Once sugar gets dissolved, stop stirring. Add rose water and boil till it reaches to one string consistency. You can check the one thread consistency of syrup between thumb and index finger.
Keep the sugar syrup aside and now heat good amount of oil in a frying pan. To check whether the consistency of batter is right, put few drops of batter in hot oil. If it forms a nice round ball then the consistency is perfect, and if it gives a tail to boondi's, then you need to add little extra water. If it forms a very thin roundels then the water is more, just add one tbsp of besan to this and check again. Now the batter is ready for boondis. You need 2 perforated ladle for making it. The ladle with small holes to make boondi and another one to take out the boondis from oil. Pour a ladle of batter to the perforated ladle by keeping the ladle on the top of the oil and let the boondis fall into the oil. Stir continue on a medium high flame for getting evenly fried boondis.
When the boondi's are half fried, take it out from the oil and transfer into a vessel. Make sure, you need not to fry boondi for more time, else it will become crispy and crunchy, which is really not required for making boondi ladoo. Repeat the process for the the remaining batter. While repeating , wipe out the excess batter from the top and back of the ladle used for making boondi. This will help in getting round shape. Now mix the chopped nuts and cloves in boondi mixture. Pulse the mixture little bit. Add prepared sugar sryup and start making ladoos of desired shape. (For making perfect shaped ladoo's, the mixture should be luke warm).
Yummy boondi laddoos are ready to serve for the family and to offer to friends and dear ones.
Notes
You can keep these homemade boondi ladoo for 6-7 days. Refrigerate them after 2 days.
Tasty Indian Recipes
Chef Tip:
Always store these ladoos in an airtight container. You can keep them for 6-7 days. Refrigerate them after 2 days.
Further Reading: