Gachak is the famous Indian Butter Crunch Candy, made with Jaggery (Gud), Peanuts (MoongFali / Ground Nut) and Pure Ghee. Now a days, nothing is difficult to make at home and if ingredients are available and you are going through the proper procedure, then you can make anything very easily.
We often buy this old Fasion Butter Crunch from shops to eat. But when my Punjabi friend told me the way of making it, I was really amazed. Gachak is extremely easy Indian sweet dish and generally eaten in Indian Festivals, such as Lohri, Mahashivratari, Holi, etc. During these Special Festivals, The prasad includes primarily of Til and Gachak. It is a kind of chikki, that can be made from til (sesame), peanuts and jaggery.
India is blessed with lots of Festivals and every religion enjoys and celebrates them in their own style. For all such lovely Sankranti & Lohri Gifts, varities of Chikki's & Sweets are made only in India.
Gachak is a dry India Sweet dish, hence can be kept for many days. In fact, people send this Dry Fruit Chikki to their relatives, which are staying at far distances. As far as the preparation of Chikki / Desi Ghee Gachak is concerned, the freshness and cleanliness also go with health. These Sweet Dishes are means of enjoyment and provide all the nutritions, that are necessary for the health.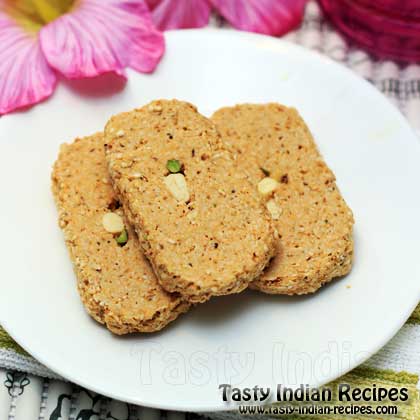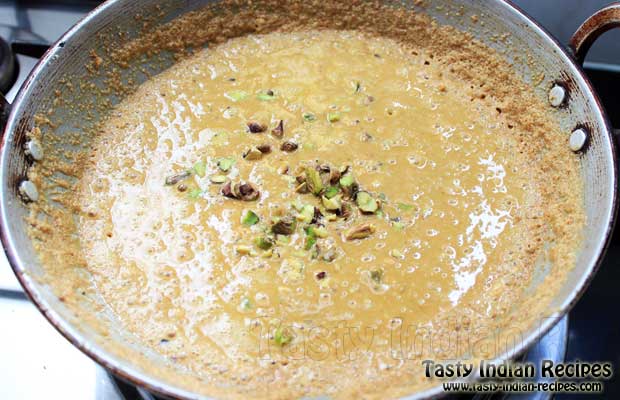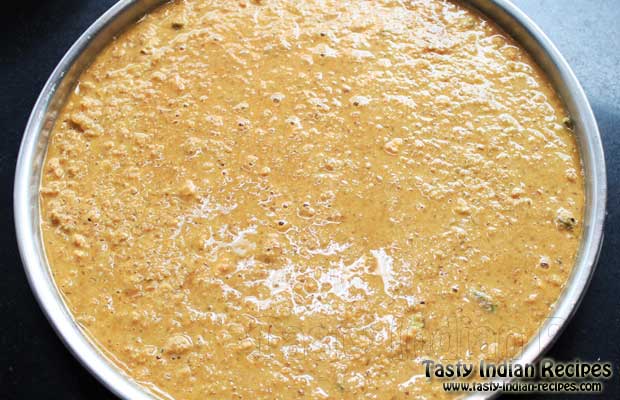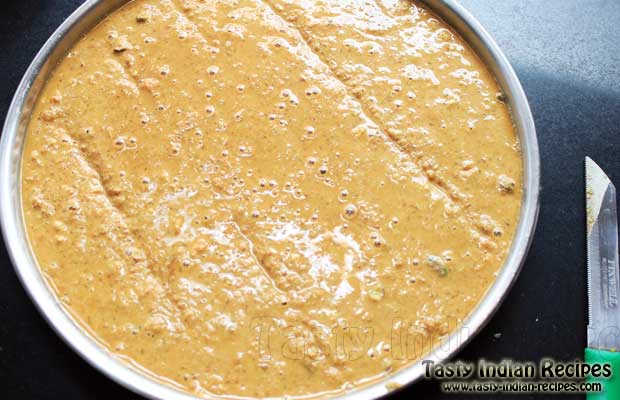 How to make Gachak Recipe:
Gachak Recipe is the famous Indian Butter Crunch Candy or Dry Fruit Chikki, made with Jaggery (Gud), Peanuts (MoongFali / Ground Nut) and Pure Ghee.
Ingredients
1 cup jaggery (Gud)
1/2 cup Sesame seeds (Til)
1/4 cup peanuts
1/2 cup sugar
4 tablespoon ghee
1 teaspoon cashew nuts, blanched
1 tablespoon almonds, blanched
2 tablespoon pistachio, blanched
Instructions
Grate the jaggery in a big bowl and keep aside.
Melt ghee in a pan and mix in grated jaggery in it.
Stir constantly to make a lump free fine paste. Do not add milk or ghee in it. Because the jaggery will leave its water, which is sufficient for getting it cooked.
Now add sugar, peanuts and keep stirring.
Heat another saucepan and roast the sesame seeds, just for a few seconds.
Mix in roasted sesame seeds in jaggery mixture and cook for few more minutes.
Finally add blanched dry fruits and mix well, until the mixture leaves the sides of the pan.
Grease any flat plate / tray with some ghee, pour the prepared gachak mixture over it and spread evenly.
Cool down for 10 minutes and then cut into pieces.
Notes
Let the Gachak Mixture cool down completely, else you will not be able to cut it into pieces.
Tasty Indian Recipes
Chef Tips:
Store the pieces of Gachak in an air tight container, you can keep them for 6-7 days.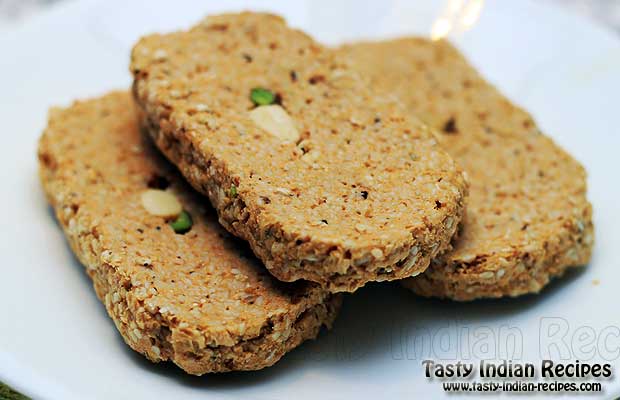 Further Reading:
If you are looking for more Indian Sweet Dishes, then do check Dry Fruit Chikki, Boondi Ladoo and Shrikhand.