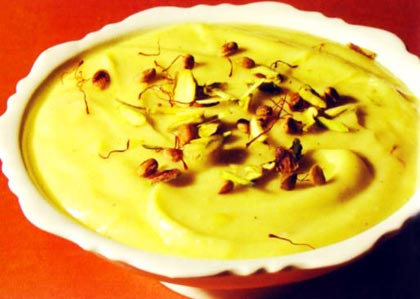 Shrikhand (Sweet Golden Yogurt) is the sweet delicacy of curd, saffron and cardamom powder. This Gujarati style shrikhand has special place in the menu of sweets recipes.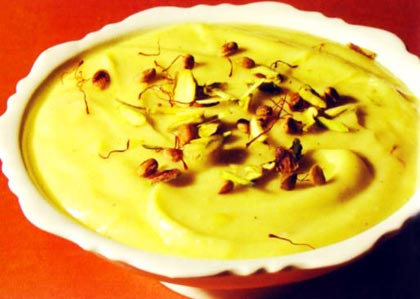 Preparation time: 10 minutes
Cooking time: 20 minutes
Servings: 4
Ingredients:
35 ounces (about 1 kg) fresh thick curd
1 cup sugar
A pinch of saffron strands
1 tbsp green cardamom powder
2 tbsp warm water
Few almonds chopped
1 tbsp cashew nuts chopped
1 tbsp pistachio chopped
How to make Shrikhand:
Grind the sugar to make a smooth powder and keep aside.
Hang the curd in a clean muslin cloth and fold tightly to drain the whole water.
Dissolve the saffron strands in the warm milk and leave for few minutes.
Combine the hung curd, saffron mixture, sugar and cardamom powder.
Mix well and give a smooth blend for few seconds.
Refrigerate the blended mixture for few hours.
After few hours, garnish the chilled shrikhand with chopped dry fruits.
Enjoy the yummy Gujarati style shrikhand with paratha, puri or as it is.
Chef Tips:
You may use dry fruits of your choice to make the shrikhand more tasty.
It is very important that curd should be thick enough to make this shrikhand, for that hang the curd in the muslin cloth for few hours until the liquid completely drained off.