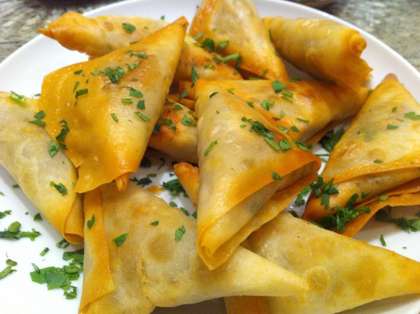 Karanji (Karchikai, Kajjikayalu) is the Maharashtrian style sweet dish, prepared with easily available dessert ingredients and the delicious filling got the brilliant taste of coconut, sugar and cardamom. These sweet and chewy coconut layer inside is a perfect foil to all your diet plans, but this is a festive season going on, so don't miss them.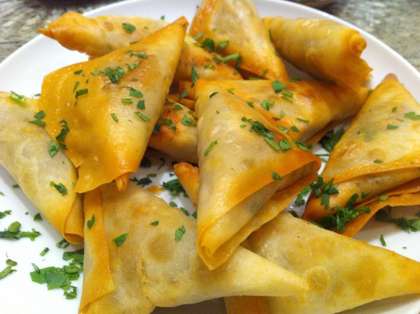 Prep time:
Cook time:
Total time:
Yield: 10 servings
Ingredients :
For making the Cover you will require:
2 cups all purpose flour (Maida)
1/2 cup melted ghee / margarine
1 cup sooji (semolina / rawa)
1/2 tsp salt
Milk to knead the dough
For the Filling or Stuffing you will require:
2 cups dry coconut
2 cups powdered sugar
3 tbsp poppy seeds (khus-khus)
1/2 tsp cardamom powder
4 tbsp Finely chopped mixed nuts
1 tbsp raisins
Oil to deep fry
How to make Karanji (Karchikai, Kajjikayalu) :
Let's start preparing cover first, for that, take a big bowl and mix the flour, semolina and salt in it.
Combine very well and then add melted ghee.
Rub continue to make a lump free breadcrumb.
Gradually add milk and knead the dough with your hands.
Make sure the prepared dough should be neither too hard nor too soft. Make it of medium consistency.
Slowly stir in the warm milk to the dough.  .
Cover the dough with a plastic wrap or kitchen towel and set aside for 30 minutes.
In the meantime, heat a skillet and dry roast the poppy seed for a while.
Take the seeds out and then roast the coconut in same skillet for few minutes.
Warm it until aromatic, but without changing its color.
Mix the roasted poppy seeds, chopped mixed nuts, raisins and cardamom poowder.
Combine well and then mix the powdered sugar.
Mix and keep aside.
Now take a small piece of the dough and roll out into a circle of about 5-9″ in diameter.
Place 2 tsp of prepared filling in the center and smear some milk around the corner of a circle.
Bring one end of the circle over the top, to the other end to make a semi circle.
Press it well with your fingertips.
Press it down with a fork, and try to a give a beautiful pattern.
If you have empanada maker/mould, you can use that too.
Repeat with rest of the dough.
Heat good amount of oil in a frying pan and drop 2-3 pieces of karanji at a time.
You will find them puff up a bit.
Ladle in some hot oil on surface now and then turn it for the other side to cook evenly, just like you would make puri's.
They are done, when looks golden brown.
Drain them on paper towel.
Crispy and delicious Karanji's are ready to serve.
Cool them completely and then store in air tight jar / container.
You can keep them for few weeks.