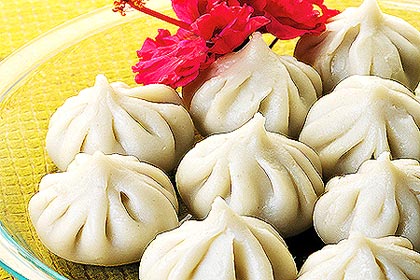 Ukadiche Modak is a sweet delight made with flour, coconut, jaggery and ghee. These cute and yummy modak are the special treats to celebrate several occasions and festivals in India. These special modak are the best prasad during Ganesh Chaturthi.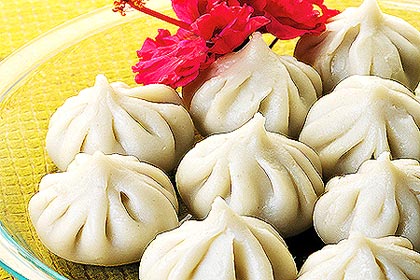 Preparation time: 10 minutes
Cooking time: 30 minutes
Servings: 10
Ingredients:
1-1/2 cups rice flour
1/2 cup all-purpose flour (maida)
2 cups milk
1 cup coconut grated
3/4 cup jaggery (gur)
2 tbsp pure ghee
1 tbsp poppy seeds
1/2 tbsp fennel seeds powder
1 tsp green cardamom powder
1/4 tsp salt
How to make Ukadiche Modak for Ganesh Chaturthi:
Melt the ghee in a big pan and add poppy seeds.
Saute for few seconds and add the flours.
Add salt and stir the flours continuously to avoid the lumps.
Bring the milk to a few boils and mix in the flours.
Remove the mixture from the flame, cool completely and knead with the hands to make a smooth dough.
Cover the dough with moist cloth and set aside.
Heat a vessel and add grated coconut and jaggery.
Mix very well and cook on moderate heat for few minutes.
Add powder of fennel seeds and green cardamoms.
Again mix to prevent the lumps from forming.
Turn the gas off when the coconut mixture looks little golden brown in color.
Divide the prepared dough into 20 equal balls or rounds.
Also divide the mixture of coconut in 20 portions.
Slightly grease your palms with oil or ghee.
Make appx. 2-1/2 inch round disc from each ball and place a portion of coconut mixture in the center.
Gather all the sides of the rolled out disc and seal the edges at the top to give a modak shape.
You can either steam them in idli steamer for about 15 minutes or you can fry them in hot oil or you can bake them in the oven.
Chef Tips:
These delicious Ukdiche Modak can be stored for many days in air tight container.
You can adjust the sweetness as per your choice and diabetics can use sweetener or any sugar-free substance instead of adding jaggery or sugar.