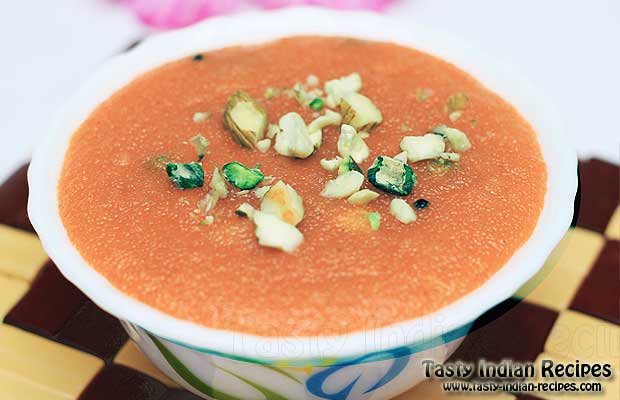 Singhade Ka Halwa is a great sweet delight made with fresh water caltrop i.e (hare singhade). This halwa is most often prepared during the fasting and festivals. It is commonly known as kuttu ka halwa recipe.
Preparation time: 12-15 minutes
Cooking time: 20 minutes
Servings: 2-3 persons
Ingredients:
200 gms fresh water caltrop (hare singhade)
2 tbsp green cardamoms crushed
2 cups condensed milk
2 tbsp khoya
1 cup sugar
1 tbsp cashew nuts blanched
1 tbsp almonds blanched
1 tbsp pistachio chopped
2 tbsp pure ghee
A pinch of salt
Few drops of yellow or orange food color
How to make Kuttu Ka Halwa:
Peel the singhade, wash in normal running water and chop them into fine pieces.
Boil the singhade in 4 cups of water for few minutes.
Drain the whole water and mash the boiled singhade with potato masher or pulse in a grinder.
Melt the ghee in a pan and add crushed cardamoms.
Saute for few seconds and add the mashed singhade.
Fry for few seconds and add milk, salt, khoya and sugar.
Stir continue to avoid the lumps and fry until turns into light brown in color.
Make a thick consistency of halwa.
After constant mixing of 4-5 minutes, lower the flame and add 3-4 drops of food color.
Mix very well and add blanched nuts.
Cook for 2 more minutes and serve hot.
Chef Tips:
You can use the grated singhade to make delicious halwa recipe.
This wonderful Kuttu Ka Halwa can be garnished with several chopped dry fruits and nuts.